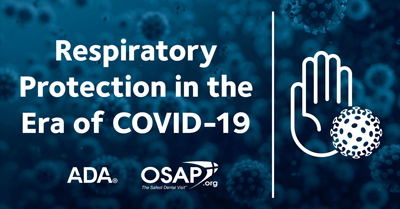 Due to overwhelming demand, registration for a free April 24 webinar on respiratory protection is at capacity.
But a recorded version of the webinar will be posted on April 27 by 5 p.m. Central time on ADACEonline.org.
Respiratory Protection in the Era of COVID-19 includes presentations from two infection control experts from the Organization for Safety, Asepsis, and Prevention.
The webinar focuses on the steps necessary to introduce the use of the N95 respirator and other respirators into the dental office.
The speakers will provide practical tips for developing the Occupational Safety and Health Administration-required respiratory protection program, including fit-testing, medical evaluation and training.
Different levels of surgical masks and how they compare to N95 respirators will be reviewed. In addition, the course will describe the proper steps for donning and doffing of all PPE.

The presenters are recognized experts in infection control and previously hosted an ADA webinar on March 20 on infection control protocols and procedures that is available for on-demand viewing:
Kathy Eklund is the director of occupational health and safety and the Forsyth research subject and patient safety advocate at The Forsyth Institute. She is adjunct faculty at Regis College's dental hygiene program, where she teaches senior-level courses in oral health research and evidence-based decision-making. Ms. Eklund serves as faculty for the New England AIDS Education and Training Center and HIVdent.org and has been chair of the Organization for Safety, Asepsis, and Prevention board of directors.
Eve Cuny is the director of environmental health and safety and associate professor at the University of the Pacific Arthur A. Dugoni School of Dentistry in San Francisco, where she is also assistant dean for global relations. Ms. Cuny is a member of the National Occupational Research Agenda Council and has served as a reviewer and subject matter expert for the Centers for Disease Control and Prevention. She is a member of the board of directors of the Organization for Safety, Asepsis, and Prevention.
To aid dentists who may be reopening their practices when state mandates are lifted, the ADA issued a statement and interim guidance April 18 on the personal protective equipment recommended in order to practice during this pandemic and minimize the risk of virus transmission.

The ADA also issued a new chart called Understanding Face Masks that highlights the characteristics of several common types of mask and their appropriate uses. The chart also addresses mask fit protocols and usage limitations.

For more information about COVID-19 and the ADA's response to the pandemic, visit ADA.org/virus.