Chicago —
The Chicago Dental Society and its members donated thousands of personal protective equipment to front-line health care workers in response to the COVID-19 pandemic.
The society's efforts began in late March when Dr. Clark Stanford, dean of the University of Illinois at Chicago College of Dentistry, reached out to Dr. Terri Tiersky, president of the society, about supplies that were expected to be in short supply at the dental school clinic and Chicago hospitals as they prepared for a surge in emergency cases.
The society responded with a donation of 800 masks, 5,700 gloves and more than 4,000 gowns that were stored for use during its Midwinter Meeting and other regional continuing education programming.
Dr. Tiersky then put out a call to society dentists to donate their excess personal protective equipment as well, leading to supply drives in the society's nine branches in the Chicago area.
"As health care providers, it is our nature to want to help. Unfortunately, during this very difficult time, we cannot provide care to our patients in the manner that we are accustomed to," Dr. Tiersky said. "Not being able to help those in need is a feeling, as health care providers, we are unaccustomed to. I felt that it was very important to give our members a way to be involved and the opportunity to do whatever they could to help in this fight."
Over the next two weeks, dentists brought supplies to local drop-off sites — mainly dental offices — donating more than 91,000 gloves and 7,400 masks, as well as suits, gowns, hand sanitizer, face shields, eye shields, hair nets, disinfecting wipes and other protective barriers.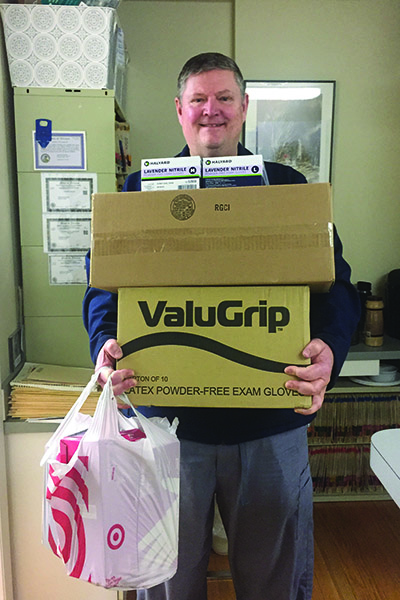 University of Illinois at Chicago dental student volunteers collected most of the personal protective equipment to bring back to UIC, which then distributed the supplies among the four hospitals in the Illinois Medical District in Chicago, including the University of Illinois Hospital, John H. Stroger Jr. Hospital of Cook County, Rush University Medical Center and the Jesse Brown VA Medical Center. Some branches also shared a portion of their donations directly with their local health care facilities in the suburbs, including Northwest Community Hospital in Arlington Heights, St. Joseph's Home for the Elderly in Palatine, The Moorings of Arlington Heights and Franciscan Health Olympia Fields Hospital in Olympia Fields.
"I am very proud of the way that our members, through our nine branches, stepped up immediately to donate whatever personal protective equipment they could to help those who are treating the patients who are in need of emergency care," Dr. Tiersky said.
She acknowledged there is a delicate balance for dentists between keeping enough supplies for themselves to treat emergency patients and supporting those on the front lines.
"I think it is very important that if dentists feel they currently have extra personal protective equipment based on their practice needs and they feel able to donate some or all of that surplus, that they give what they can to ensure that the health care workers who are currently fighting this fight daily have what they need to stay safe and healthy," Dr. Tiersky said.