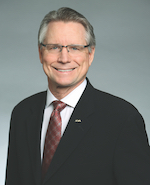 "Mrs. Klemmedson, Daniel has eight cavities."

The pronouncement, made during a boyhood visit to the dentist, remains ingrained in Dr. Daniel Klemmedson's mind.

"I spent way too much time in the dentist's office," said Dr. Klemmedson.

In spite of all the time he spent in the dentist's chair, it was beside the chair where Dr. Klemmedson saw his future. As he remembers it, he was attracted to the convenience.

"I liked the fact that my dentist in Tucson lived in his office," Dr. Klemmedson said. "His office was attached to his house, and I thought that was pretty cool."

What started out as a career of convenience — either be a dentist or marry a dentist — became a passion, layered with greater complexity than what he had imagined as a teenager.

"What other profession allows for full use of intellectual abilities as well as surgical skills?" he asked. "We are the definition of primary care: Diagnosis, education, prevention and clinical care over a lifetime. The autonomy of practice choice, self-regulation and work-life balance cannot be beat."

Dr. Klemmedson's career in organized dentistry will culminate Oct. 19 when he is installed as the 157th president of the American Dental Association at the virtual House of Delegates meeting. Because of the COVID-19 pandemic, the ADA Board of Trustees voted to hold the ADA FDC 2020 meeting and subsequently the House of Delegates virtually this year.

'I didn't know how to stop'

Dr. Klemmedson was born in Missoula, Montana, in 1954. His father's job in forestry and watershed management and his doctoral research at the University of California-Berkley forced the family to move around a bit during Dr. Klemmedson's youth: California, Boise, Idaho, and finally, Tucson, Arizona, where Dr. Klemmedson finished junior high, high school and ultimately obtained a bachelor's degree in biology from the University of Arizona.

During a college summer, he served as a counselor for Camp Wildcat, a student-run organization at the University of Arizona that provided underprivileged children the opportunity to go camping in the mountains outside Tucson. It was there he met another counselor: his wife, Adaline. They ultimately married before he started dental school at the University of Southern California in 1976.

Adaline got a job in the fundraising and development division for one of the vice presidents at USC, and benefited from a program to reduce Dr. Klemmedson's dental school tuition by half. A good portion of the remainder of his tuition was paid by the state of Arizona, which had no dental schools at the time so they collaborated with neighboring states to help residents financially.

As a result, Dr. Klemmedson graduated dental school relatively debt free. Without the debt and the stress that typically comes with it, Dr. Klemmedson had a lot more choices when it came to his next steps.

His choice? More school.

"I did not know how to stop," Dr. Klemmedson said.

Dr. Klemmedson completed a three-year oral and maxillofacial surgery residency at the Los Angeles County/USC Medical Center in 1983, obtained his medical degree from the University of Southern California School of Medicine in 1985 and completed a transitional internship in the Tucson Hospitals Medical Education Program in 1986.

You read that right: Dr. Klemmedson is a dentist, oral surgeon and M.D.

After obtaining all of his degrees, Adaline ultimately put her foot down.

"Do you like what you do?" she asked. The answer was yes.

"Then get a job," she responded.

Dr. Klemmedson met his future partners while providing anesthesia for them during a clinical rotation at Tucson Medical Center. Drs. Theodore Kiersch and Edward Schneider were involved in organized oral surgery and invited him to a meeting at the Western Society of Oral and Maxillofacial Surgeons before he joined their practice.

"One of my partners became a trustee of the American Association of Oral and Maxillofacial Surgeons," said Dr. Klemmedson. "I was constantly surrounded by organized dentistry and experienced the benefits first-hand."

Dr. Klemmedson eventually became president of the Arizona Dental Association, vice chair of the ADA Council on Dental Benefit Programs, a member of the ADA Board of Trustees and now president-elect.

He's switched partners a few times and currently has a practice in Tucson and a satellite one in Sierra Vista, Arizona, less than 10 miles from the Mexican border, where many of his patients come from the Fort Huachuca military base or are veterans from the area.

For the past 30 years, Dr. Klemmedson has joined primary care and specialty physicians, audiologists, nutrition specialists, sociologists, dentists, orthodontists and oral and maxillofacial surgeons as a member of the Children's Clinics' cleft palate-craniofacial team. Dr. Klemmedson coordinates surgical care with plastic surgeons and ear, nose and throat surgeons to address the many specific needs his pediatric patients require from birth to adulthood. His primary area of concentration is with the maxillary cleft closure and bone grafting, orthognathic surgery and dentoalveolar surgery.

During the little free time he does have, Dr. Klemmedson "putters around the yard" with his cacti and succulents; exercises every morning at 4:30 a.m.; is an avid cyclist, having ridden across major portions of Australia; and supports his wife's endeavors.

"My wife, she's kind of the star of the family to be honest," Dr. Klemmedson said. "She leads and I follow."

Adaline ultimately became the program director of the Institute for Marine and Coastal Studies at USC. In Tucson, she also worked in health care, ultimately retiring as a vice president of the teaching hospital associated with the University of Arizona College of Medicine. After retiring, she became a community volunteer and philanthropist "serving as the chair of more local groups in Tucson than I can name," Dr. Klemmedson said.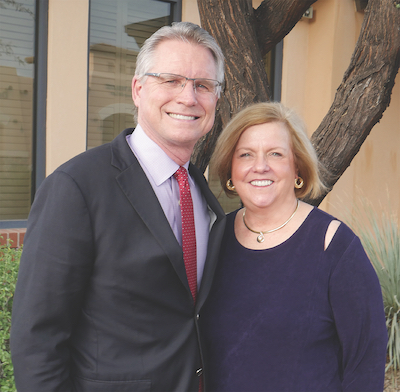 Pandemic presidency

The world looked very different in September 2019 when Dr. Klemmedson became ADA president-elect. His priorities were different.

Dr. Klemmedson is passionate about creating a culture of safety in dentistry, which the House of Delegates resolved to do in 2018. In 2019, the ADA committed to a three-year initiative, addressing safety training in dental-school curriculums, disseminating information, incorporating patient safety considerations in practice guidelines, developing reporting mechanisms to guide future recommendations, and calling for increased collaboration between professional organizations, Dr. Klemmedson notes.

When the COVID-19 pandemic hit early this year, it shone a spotlight on safety and created a sense of urgency to the message Dr. Klemmedson and others were trying to get across.

"The COVID-19 pandemic, although slowing somewhat our progress, has illustrated the usefulness of the goals of the 2019 resolutions," said Dr. Klemmedson. "In fact, all have played directly into how the ADA and other professions have responded to obvious safety ramifications exposed by this novel coronavirus. Many of the changes we are making in response to COVID-19 (screening, patient and staff education, PPE, medical equipment, asepsis, facilities management and reporting) are of universal use in other areas of our practices where safety can be improved. We need to extend the learning and apply it for the betterment of our patients, our staff, and our profession."

Organizationally, the ADA has to respond to the financial strains created by the pandemic, Dr. Klemmedson said.

"The ADA, just like most dental practices, will have reduced revenue this year and most probably next year as well," he said. "Strategic adjustments will have to be made so that the ADA addresses its strategic plan goals in the most efficient manner."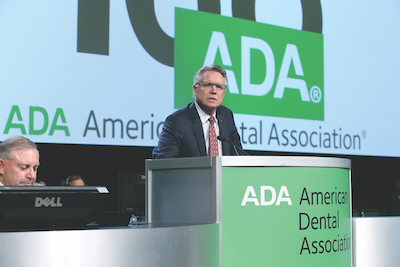 Dr. Klemmedson was interviewed by Kelly Ganski, editor for the ADA News, in July. Part I of the Q&A follows here.

ADA News: What are the three biggest issues facing the profession right now?

Dr. Klemmedson: There are so many issues that affect the provision of oral health care that it's difficult to identify what is most critical. Major categories that keep me up at night are:

1. Adapting to the new reality of COVID-19. Finance, operations, clinical practice, science and governance are all affected. The ADA will have to exercise discipline to balance member and association priorities with available resources. All dental practices will have to do the same.

2. The continued presence of many pre-COVID issues that affect the oral health care profession. Third party, licensure, workforce and student debt issues did not go away, and we must be diligent about continuing our advocacy efforts in those areas.

3. Persistent disparities continue to exist in the ability of individuals to utilize and access dental care. General economic conditions, government and third party benefit programs have not substantially increased utilization. Oral health is integral to general health and we must always seek opportunities to improve utilization of that care.

ADA News: What do you think of the Association's response to COVID-19? What legacy will the pandemic have on the profession?

Dr. Klemmedson: The response to COVID-19 is the most impressive effort I have seen from the ADA in my tenure as a member. The ADA recognized the significant impact this pandemic would have on our members and communities. Resources were rapidly reallocated to allow for a concentrated effort on this one issue. The ADA recognized the importance of dentistry's response to COVID-19 to the entire profession and not just ADA members. Information, expertise and clinical guidance was provided to all dentists.

ADA News: How has the COVID-19 pandemic demonstrated the value of the ADA to dentists? What resources did you find the most valuable as a dentist?

Dr. Klemmedson: The ADA has always been the trusted source of information for our members. That is more true now than ever. The ADA developed robust FAQ's, webinars and detailed guidelines to help dentists understand the disease and make appropriate decisions for their practices and staff to return to practice. The Washington office critically analyzed COVID-19 relief bills, influenced changes important for dentists and then educated our members on them. The ADA worked with Federal Emergency Management Agency to position dentists as top-tier health care providers and prioritized them for personal protective equipment.

ADA News: Are there any changes brought about by the COVID-19 pandemic that you believe will remain permanent in dentistry?

Dr. Klemmedson: It remains to be seen. As the science around this new virus evolves, we will understand exactly what, if any, new measures will be necessary to continue in dentistry that patients are accustomed to. We can use the increased vigilance on safety related to COVID, to enhance other parameters of safety in dental practice. I believe there will be opportunity to use the disruption this pandemic has caused as leverage to seek meaningful changes to reimbursement that reflects the true cost of providing care in this new environment. Third-party and government payers have an obligation to provide care, and some have already recognized the increased costs generated by this pandemic.

ADA News: What are the biggest takeaways from the COVID-19 pandemic that could affect how the ADA and dentists approach a health crisis like this in the future?

Dr. Klemmedson: The first takeaway is the fact that the ADA has the ability to respond rapidly to a major event that alters a large portion of the dental industry. We responded well to the HIV/AIDS crisis and made changes that are now second nature. We will do the same following this novel airborne disease but should acknowledge the severe disruption this has caused and proactively develop mitigation plans for future possibilities.

ADA News: In the age of COVID-19, what challenges do you see dental schools facing in educating future dentists? And what can the ADA do to address these challenges?

Dr. Klemmedson: As I look back at my dental school education and compare that to what current students learn, I have no doubt that dental schools will adapt, and students will accept the changes as routine.

ADA News: Are you worried that the pandemic and recovery might be endlessly financially stressing for members in the long term? In what ways can the ADA continue to assist dentists in their financial recovery from the COVID-19 pandemic?

Dr. Klemmedson: The effects of this pandemic will extend for some time. The effects on individual dentists will vary. Practices will be different than pre-pandemic and necessary mitigation efforts will be more costly. Financial stresses will be magnified by increased overhead costs and possibly decreased patient volume. The ADA needs to support member dentists by accumulating accurate data on practice costs to document revenue necessary to meet those costs, and advocate for reimbursement that reflects those costs.

ADA News: What considerations led to the decision to cancel annual meeting? Do you see the structure of the meeting changing in perpetuity?

Dr. Klemmedson: The safety of ADA staff, volunteers and attendees was foremost in the decision process. ADA staff evaluated all options and did not commit to a decision until it was clear that risks associated with this pandemic outweighed benefits associated with an in-person meeting. Prior to the pandemic the ADA Board of Trustees approved exploration of options related to re-envisioning the annual meeting. Members have a plethora of options for continuing education and many options exist with many of the attractions of a traditional dental meeting. We intend to maintain critical components of the annual meeting that meet the need of today's dentists and design an experience that is unique and engaging.

ADA News: What was the first step that you took into organized dentistry — a step that eventually led you to become president-elect of the ADA? How/why did you get involved in organized dentistry? How did you find yourself in a leadership role? Describe your leadership style. Do have a motto or saying that inspires you? Has it changed over the years?

Dr. Klemmedson: I joined my component, constituent and national associations as soon as I finished my residency. I was asked to serve on a membership committee at the local level. That led to positions at the constituent level and then the state level. While an officer with the Arizona Dental Association I was nominated to a position on the Council on Dental Benefit Programs where I eventually was vice-chair. That council was the best experience of my life. I was also appointed to a position on the ADA Strategic Planning Committee. My district nominated me to be trustee and the rest is history. My leadership style is based on a philosophy that thorough preparation, diversity of thought, knowledge of our past and honest consideration of the future will lead to decisions that benefit our members and the public we serve. I have several mottos. One is, "Die broke." To me it means don't leave anything on the table. Give it all. Go until there is nothing left. A second one is, "Raise the bar." We can always do better and that should always be our goal. Those that want to do what we do will have to work harder.

ADA News: Why are you a member of the Association? Why should a nonmember join?

Dr. Klemmedson: I am a member of 10 associations. They all create or maintain opportunities for me to be successful in my practice. I am unaware of many of the efforts they make on my behalf, but am grateful they are doing what I do not have time to do. The success of an association is in part due to collective action and the influence related to membership numbers. Collective action and participation by members generates greater advocacy with less individual investment.

ADA News: Do you have priorities for your year as president? Specific goals you are aiming to achieve?

Dr. Klemmedson: I would like to continue ADA efforts to advance the ability of dentists to provide oral health care to our patients and increase understanding of the importance of the ADA to member dentists. The transition of officers at the ADA is too frequent to effectively allow every officer to have unique programs. Multi-year efforts are often necessary to create meaningful change. The program developed by Dr. Chad P. Gehani, current ADA president, to transform the ADA's digital presence is a good example. I will continue the efforts started by Dr. Gehani to improve the ADA member's digital experience. COVID-19 will likely change a lot about how the ADA communicates with and engages our members. Digital infrastructure and innovative platforms will be critical to sustain and grow the member experience.

ADA News: Questions to the Association regarding dental benefits have skyrocketed in the past few years, according to the ADA Center for Dental Benefits, Coding and Quality. The Decoding Dental Benefits series in the ADA News has become one of its most popular features. Why does this issue occupy many of our members' minds, and what can the ADA do to showcase and boost its advocacy on this issue?

Dr. Klemmedson: Dental benefit programs were created in the mid 20th century to enable more people to be able to access oral health care. A large majority of dentists participate in their patient's benefit plans, but it is a love-hate relationship. Dentists, patients, employers and benefits companies are constantly engaged in a game of push and pull to gain an advantage. The ADA is continually monitoring, lobbying and providing education on behalf of our members. Knowledge of the CDT and reporting requirements is critical for dentists who want to be fairly reimbursed for their efforts.

ADA News: The Association deployed this summer the Dental Licensure Objective Structured Clinical Examination (DLOSCE). From your perspective, why was it important for the ADA to take a lead in creating this exam, which is intended to be a national clinical exam to be used by state dental boards? How does this exam benefit future dental school graduates, ADA members and the profession?

Dr. Klemmedson: The ADA has made repeated attempts over the years to improve testing and licensure options for graduating dental students. A long-term policy of the ADA is to work to eliminate the live patient exam. Testing agencies failed to act so the ADA moved forward independently. As it turns out, the COVID- 19 pandemic created a significant disruption in the ability to administer licensing exams this year. The DLOSCE was released early to help graduating students and has been accepted by several states. This is creating additional opportunities for graduating dental students that many did not think existed.

ADA News: What is your insight on the status of the student debt issue? The ADA has a partner in Laurel Road, but what other steps is the Association taking or should take?

Dr. Klemmedson: Student debt has been a topic of discussion at the ADA for as long as I have been a member. Numerous resolutions have been passed and many workgroups formed to seek solutions. Legislative efforts at the federal level for a variety of loan options, repayment and forgiveness seem to be a constant. A workgroup created by the House of Delegates last year is reviewing the issue this year to look for opportunities missed. All options need to be constantly considered, re-considered and improved. We must also work to ensure that viable practice opportunities exist for all dentists. Financially successful dental practices and employment opportunities enable payment of student debt.

ADA News: The future of the Association is its membership, and recruiting new dentists is a high priority. What programs are working? What would you like to see the ADA do?

Dr. Klemmedson: Membership in the ADA is critical for the success of our profession, not just the ADA. The ADA advocates for the entire profession, not just our members. ADA advocacy is dependent upon financial resources, which are significantly related to membership. The value of membership has always been difficult for some to see as it is often intangible. The value often goes unrecognized because much of what we do is behind the scenes. Advocacy directed at private and government third parties, regulators, state boards, educators and competitors is not all that exciting. The COVID-19 pandemic created an opportunity for the ADA to truly show what its value is. The volume of advocacy, information and guidance provided to ADA and non-ADA members over the last five months has never been seen. Hopefully the value will be recognized. Outreach in dental schools and at the local level is critically important to establish a personal connection and communicate these values. COVID has made that more difficult this year but with time efforts will resume.

ADA News: Have you learned something about the ADA since joining leadership that you didn't know previously that you wish every member knew?

Dr. Klemmedson: I have been pretty intimately involved at the national level for about 12 years (Council on Dental Benefit Programs, Strategic Planning Committee and Board of Trustees). I am a bit ashamed to admit that there are facts about the ADA that I have still not discovered. So much of what members know or remember is dependent upon what their individual concern or problem is. I wish all members could experience "a day in the life of the Washington, DC office." I am constantly amazed by the volume of issues that the ADA works on for our behalf.

ADA News: What value does the ADA development of dental standards have for members? What is your perception of the standards process and its impact on members?

Dr. Klemmedson: Another hidden gem. I was the Board liaison for the Council on Scientific Affairs and was able to attend the Standard Committee on Dental Products meeting. We, the ADA, have the unique ability to study, evaluate and recommend standards for the multitude of products that all dentists use on a daily basis. These standards, which are used by manufacturers, establishes quality that we can depend on. Most dentists do not know that the ADA is an accredited standards development agency.

ADA News: What should members know about the scientific work the ADA does? How does the formation of the ADA Science & Research Institute support the ADA's goal of advancing the health of the public and the success of the profession?

Dr. Klemmedson: Science is the foundation on which our profession is based. We are fortunate to have a well-established presence in science that is recognized by many in the health care, educational and regulatory community. We have recently consolidated the science divisions formerly divided between the ADA and the ADA Foundation. The new entity is known as the ADA Science and Research Institute. Drs. Marcelo Araujo and Raymond Cohlmia lead this new entity and are rapidly creating a new home for basic and translational science that will improve the oral health of our patients and clinical advancements for our members.

ADA News: Should the ADA better recognize/serve public health service dentists and/or dentists who accept or want to accept Medicaid patients?

Dr. Klemmedson: Yes. The ADA represents all members, including those who choose specialty practice including public health, and/or treat the underserved or patients with Medicaid benefits. I have attended meetings addressing the needs of private practice dentists, and public health dentists. Both have similar issues. Both are concerned about providing appropriate care to their patients in a model that provides adequate resources to cover the cost of providing that care. Dentists who elect to care for Medicaid patients should be celebrated and supported. We should all work to improve these programs, and the dentists dedicated to treating these patients. Improved health care for Medicaid populations, and reimbursement for Medicaid participating dentists is beneficial to non-participating dentists. Our professional obligation to the social contract we accept when we become dentists is satisfied, concerns of advocates seeking increased access for underserved populations is addressed and dentists who choose a different model of practice can do so with pride.

Part II of the interview will appear in the next issue of the ADA News.