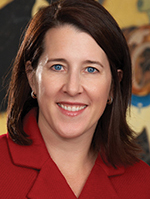 Dr. Meeske
The ADA is moving ahead in its advocacy efforts related to what some pediatric dentists are calling an escalating obstacle of being routinely denied access to hospital and ambulatory surgical center operating rooms across the country, a problem exacerbated by the COVID-19 pandemic.
"It has become a crisis for some pediatric dentists because they are unable to schedule cases or have had surgery block time reduced or taken away," said Dr. Jessica Meeske, vice chair of the ADA Council on Advocacy for Access and Prevention and Nebraska pediatric dentist. "As a result, these children with severe dental disease are getting worse."
The situation dominated the July and August proceedings of the ADA's Medicaid Provider Advisory Committee. Its members have heard complaints from pediatric dentists about encountering increasing resistance and limited access to hospital operating rooms and surgical centers to address the oral health needs of patients requiring general anesthesia services in an operating room.
The lack of access is affecting some of the most challenging and vulnerable patients, said Dr. Howard Elson, a pediatric dentist and committee member.
"This is the defining issue for pediatric dentists at this time," he said. "COVID-19 has put a spotlight on the problem, and it's getting much, much worse."
The issue, Dr. Elson continued, stems in part from the fact that hospital administrators and other physicians don't acknowledge that dentistry is essential health care. The hospitals prioritize other cases over dental cases when scheduling treatment postponed by the pandemic, he said.
"Heart transplants, sure," Dr. Elson said. "Ingrown toenails? Maybe not."
The American Dental Association Board of Trustees adopted an ad interim
policy
stating dentistry is essential health care in July to help guide advocacy for the dental profession during the COVID-19 pandemic.
HPI publishing data
The ADA's Health Policy Institute is studying the issue and has generated
data
illustrating the problem. In August, HPI found that more than half of
pediatric dentists
surveyed reported a difference — negative — in scheduling OR time.
Of those experiencing limited or denied access, the pediatric dentists surveyed listed the reasons hospitals said they were limiting the scheduling of cases:
• 68%: Increased volume of other cases that are deemed more medically necessary.
• 32%: Concerns regarding aerosol generation.
• 27%: Reimbursement levels too low.
• 22%: Personal protective equipment shortages/prioritization for other cases.
Dr. Paul Casamassimo, a member of the Council on Advocacy for Access and Prevention and chief policy officer of the American Academy of Pediatric Dentistry,
said that what worries him is the disparity in care, given that many of the children who need care in hospitals are from economically disadvantaged populations.
"A disproportionate percentage of people of color are affected by this issue — they're bearing the brunt of this," he said.
"These are the kids who need desperate help," Dr. Elson said.
Financial pressures
Dr. Casamassimo acknowledged that hospitals are suffering financially and as a result of the pandemic, this has gotten worse and they may be making decisions based on what procedures bring in more money to help them to stay in business. Providers treating Medicaid patients needing dental care typically report lower reimbursement rates.
The differences in dental offices and hospital operating rooms are great, Dr. Meeske said.
"If children are too young to cooperate in a traditional dental clinic setting, dentists find themselves forced to address their dental pain by either holding children down or sedating them," Dr. Meeske. "Both options are not always in the best interest of the child. If you need to complete extensive treatment and the child is unable to sit still, you can't do your best care. This can lead to progression of dental caries or retreatment. That can lead to unnecessary child suffering, unhappy parents or insurers who don't want to pay."
She continued: "Hospitals and surgery centers are available to dentists who treat patients who are unable to sit for dental treatment. This includes children and adults with disabilities with extensive restorative and surgical needs (such as extracting multiple teeth), very young children, and those patients with medical and behavior conditions that prevent care in the dental clinic. The operating room provides the dentist and patient a safe environment where the patient is asleep under general anesthesia."
Working together
The ADA has been collaborating with the American Academy of Pediatric Dentistry on the issue. Dr. Casamassimo conducted a survey of each AAPD state public policy advocate to assess the scope of the problem in each state. A resulting article is being prepared for submission to the journal Pediatric Dentistry, and is planned to be used in ADA and AAPD advocacy efforts.
The ADA is also planning a white paper to assist with consideration of a partnership with ambulatory surgery centers, who may be more receptive to dental cases than hospitals.
Dr. Meeske recommended some avenues in how dentists can work together to rectify access issues so that in the future, children needing medically necessary treatment in the operating room don't have to be put on waiting lists of six months or even a year.
"It is key that dentists be proactive to protect their surgery time," she said. "For example, serving on hospital committees and boards builds relationships with other physicians and shows you are willing to do all the same work they do. In addition, dentists who are willing to take referrals from emergency departments or will see same-day emergencies or consults send a message to their hospitals and physician colleagues that oral health is an integral part of general health. Of course, working with your surgery staff and hospital leadership to be a good steward of your time and showing a willingness to work with everyone goes a long way."
Dr. Charlie Czerepak, a Chicago-area pediatric dentist and past medical staff president of what is now Lurie Children's Hospital in Chicago, said that communication between legislators and the entire dental community is crucial.
"This is a fight for equal access and equity for Medicaid patients and the importance of dentistry as a health care profession," he said.