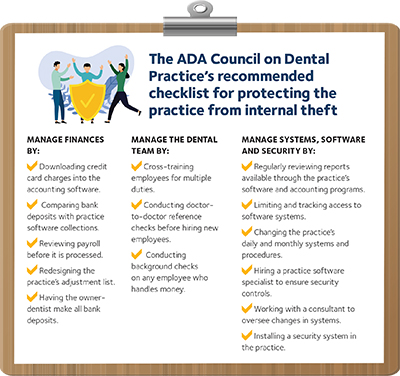 Nearly 49% of responding dental practices have experienced employee theft, and nearly 46% of those have experienced theft or embezzlement more than once, according to a survey conducted by the ADA Council on Dental Practice.

"The ADA Council on Dental Practice monitors and finds ways to address issues that confront member dentists every day," said Dr. Rudy Liddell, chair of the ADA Council on Dental Practice. "One issue that's been the subject of recent news stories is employee theft and embezzlement. The council decided it was time to conduct a survey to assess the prevalence of theft in the dental practice and then use the survey's results to offer members steps they could take to minimize their practice's potential vulnerability."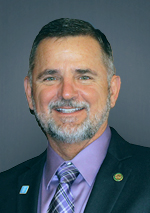 Dr. Liddell

While no business owner wants to admit that they've experienced internal theft, the reality is that it happens in all industries, including dentistry, said Dr. Douglas Wolff, chair of the council's practice management subcommittee.
"According to the survey, the most common types of theft included: taking cash; padding the number of hours worked; taking products such as electric toothbrushes or whitening kits; and providing free or discounted treatments to family members or friends without the dentist's prior approval. It also revealed that theft could be committed by employees in any role and with varying lengths of employment," Dr. Wolff said.

In response to the survey results, the council developed an easy-to-follow checklist of tips to help dental practices reduce their potential exposure to internal theft, shown above. Click here to make the checklist's steps more readable, or click on the checklist itself.
Additional resources available through the council include the ADA Guidelines for Practice Success module on Managing Finances, which includes an article on embezzlement. Visit Success.ADA.org/GPSFinances for more information.