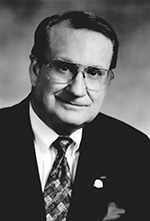 Dr. Robert M. Anderton, ADA president from 2000-01 and ADA trustee from 1995-99, died Feb. 14.

He was 82.

Born in Dallas in 1937, Dr. Anderton practiced general dentistry in Carrollton, Texas, as he ascended the ranks of organized dentistry, on top of earning a juris doctorate later in life.

Prior to joining the ADA Board of Trustees as 15th District trustee, Dr. Anderton was president of the Texas Dental Association. He received the Texas Dental Association's Distinguished Service Award in 1986 and was named the 1993 Dentist of the Year by the Dallas County Dental Society.

Dr. Anderton received his dental degree from the Baylor University College of Dentistry in 1961. He also received his J.D. from the Southern Methodist University School of Law in 1995, a master's degree specializing in health care law in 1997 and was a member of the Texas State Bar and the Bar of the District of Columbia Court of Appeals.

In a profile published in the October 2005 issue of the Texas Dental Journal, Dr. Anderton said that his "proudest accomplishment, from a dental aspect, is the honor and privilege of practicing and serving in the same community for over 40 years. When I first started, Carrollton was a small ranching community north of Dallas. Now it's the third-largest city in the adjoining county. My practice has grown and expanded until now I am treating, in several cases, the fourth generation."

Dr. Anderton's father was a semi-professional golfer, and his mother had four brothers who each had farms in east Texas, according to the profile. He said he spent his summers either caddying for his father or working in his uncles' fields picking watermelon, cantaloupe, corn or whatever else was growing that time of year.

Showing an early interest of in math and science, Dr. Anderton was motivated to pursue dentistry by a local physician who was an adviser to the science and community service clubs. Two high school teachers with family members in the dental profession also encouraged him. One of those gave him a tour of the Baylor dental school.

"I was hooked," Dr. Anderton said in the profile.

Dr. Anderton's interest in law began when he was president of the Texas Dental Association, according to the profile.

"At that time, managed care and dental HMOs were just beginning to get a foothold," he said. "I decided that it might be a good idea to learn more about these entities and get an education in law." He began his legal practice in 1996 while still practicing dentistry.

"The practice of law has afforded many opportunities I never anticipated," Dr. Anderton said. "While serving in the ADA, I was able to contribute to our legislative efforts in Washington by helping to write and comment on bills and programs."

His 1999 campaign statement, published in the ADA News, contained a brief history of some of the Association's challenges and successes over the years. He ended with optimism. "As we once again turn a century, the threats are even greater," he wrote. "There are those who would change our scope of practice, destroy our self-governance and overturn our educational system. To meet these challenges our profession must have leaders who are problem solvers, who know our positions and policies and can effectively advocate them."

Dr. Anderton's campaign slogan for ADA president was "A Man for All Reasons."

Dr. Anderton continued his positive outlook in regards to member and leader engagement during his installment speech as president in 2000, according to an ADA story. "It seems that each time the Association has been faced with finding a resolution to a serious problem, we have turned to our grassroots," he said. "I believe this is one of those times."
Dr. Charles Miller, Texas Dental Association president, said, "Dr. Anderton had a deep and profound passion for dentistry that stayed with him throughout his life. As he stated in the American Dental Association's 2001 Future of Dentistry Report, dentistry's strong public image comes from dentists giving, sacrificing, and working for the good of the public and the profession. Dr. Anderton carried forward this message by sharing his professional knowledge firsthand with his colleagues all over Texas. Many dentists, including myself, benefitted from his teachings to become not only better clinicians but better advocates for the profession he loved."

Dr. Anderton, a resident of Argyle, Texas, was married to the late Eddie Bea Anderton.
A memorial service will be held Feb. 28 at 2 p.m. at Shiloh Terrace Baptist Church (9810 La Prada Drive) in Dallas.