Indianapolis
–– Seven-year-old Jordan Randle made a big promise after visiting Give Kids A Smile for the first time during the national kickoff event Feb. 7 in Indianapolis.
"I'm not going to eat candy for the rest of the year," he said.
Jordan came to Give Kids A Smile with his mom, Ashley Moore, who learned about the program through her job at the Edna Martin Christian Center, a community center in Indianapolis.
The Indiana University School of Dentistry hosted the national kickoff, during which an estimated 150 volunteers provided dental exams, cleanings, fillings, crowns, extractions, fluoride, sealants, X-rays and oral health education to about 250 area children.
During the event, Jordan received a dental exam, cleaning and sealants, his mom said.
Since the national GKAS program was launched by the American Dental Association in 2003, it has provided free oral health services to more than 6 million underserved children. In 2020 alone, nearly 340,000 children will receive free care from about 6,500 volunteer dentists and 26,000 other dental team and community volunteers at 1,400 GKAS events.

"Give Kids A Smile demonstrates the positive impact our profession can have when we come together," ADA President Chad P. Gehani said. "The program is a great example of volunteers using their time and skills to make a difference."

Financial barriers are a major reason people forgo necessary oral health care, said Dr. Carol Anne Murdoch-Kinch, Ph.D., dean of the IU School of Dentistry.

"Give Kids A Smile is one of the many ways the dental school helps underserved families receive the oral health care they need and engages with our community here in Indianapolis to reduce barriers to accessing this care," she said.

The school of dentistry partnered with Indianapolis Public Schools to help meet the oral health disparities experienced by many of its students, said Dr. Tawana Ware, faculty sponsor of GKAS at the dental school.

"As a result of this partnership, we targeted a local elementary school and planned to serve over 150 of these children right in our backyard," she said. "Moving forward, we plan to continue to grow our IU School of Dentistry GKAS relationship with Indianapolis Public Schools and target additional schools in the future."

While Jordan had been to the dentist in the past, other children at GKAS were seeing dentists for the very first time.

"It's important because there are a lot of families who don't have the ability to go get cleanings on the regular, so being able to come somewhere where they're given a free cleaning and treatment is a great resource for a lot of families," Ms. Moore said.

The care provided at the national kickoff event would not be possible without sponsors Henry Schein Inc. and Colgate-Palmolive.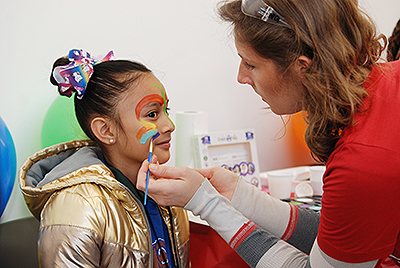 "By building public-private partnerships, along with the ADA and other like-minded organizations, we are raising awareness of the silent epidemic of oral disease in children across the United States," said Michele Penrose, director of global professional relations for Henry Schein and chair of the ADA GKAS National Advisory Committee. "Together with our supplier partners, we are delighted to have donated products and services valued at more than $18 million since 2003, and we look forward to helping to contribute to the success of this wonderful program for years to come."
To celebrate GKAS, Henry Schein CEO and board of directors Chairman Stanley M. Bergman joined Dr. Gehani, as well as ADA Second Vice President Vincent Rapini, 2nd District trustee Paul R. Leary and 3rd District trustee Linda K. Himmelberger, in ringing the Nasdaq Stock Market Opening Bell on Feb. 5 in New York.
"Colgate-Palmolive is honored to partner with the ADA by providing our consumer dental products to children at Give Kids A Smile events," said Dr. Barbara Shearer, Ph.D., director of scientific affairs for Colgate-Palmolive. "It's inspiring to see so many people come together to make a difference in the lives of children."
The ADA launched the national program as a way for dentists to join with others in the community to provide dental services to underserved children. Dr. Jeff Dalin, a graduate of the IU School of Dentistry whose son Andy is now a dental student and co-chair of GKAS at the school, co-founded GKAS in 2002 as a single event that donated oral health services to about 400 children in St. Louis.
"The high volume of patients participating in charitable events like Give Kids A Smile highlights a clear gap between those with and without access to oral health care," Dr. Dalin said. "Oral health is an important indicator of a child's overall health."
Through GKAS, dentists and other dental team members volunteer their time and services to offer oral health education, screening, preventive care and restorative treatment to children in need. Events range from those that provide free services to hundreds of children in a day to individual dentists providing pro-bono oral care and a dental home to one or several children under the GKAS banner. The program includes local events year-round.
GKAS is the anchor event of the ADA's
National Children's Dental Health Month
. In January, the ADA sent an email to every member of Congress letting them know about the month and encouraging them to seek out GKAS events in their states.
For more information about how GKAS programs are organized across the country, visit
ADA.org
, and to learn about programs taking place in your area, email
gkas@ada.org
or contact your
state or local dental association
.