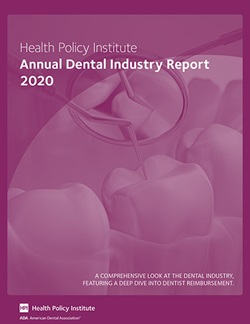 Dental spending reached $136 billion in 2018 — 3.7% of all health spending — and what the ADA Health Policy Institute is calling a "historic high" in the new HPI Industry Report released Feb. 4.
"The latest data show a slight recovery in the dental care economy in terms of overall dental spending, fueled by an uptick in utilization and spending among patients with private dental insurance," said Marko Vujicic, Ph.D., chief economist and HPI vice president, in the
report's executive summary
.
This is the second annual industry report from HPI. This year the comprehensive report, which is written mainly for companies in the dental industry space, analyzes dentist reimbursement and includes a comprehensive analysis of state-level data. Other key topics include the dental workforce and changes in key dental patient populations.
In addition to the report, HPI offers HPI Consulting Services, which provides clients with customized industry research and speaking engagements targeting the dental industry.
For more information on HPI or to inquire about consulting services, visit
ADA.org/HPIconsulting
.