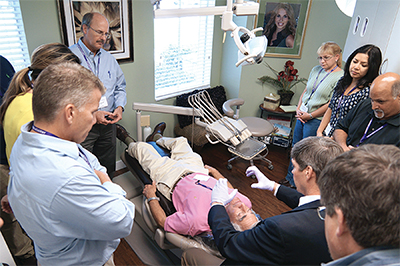 Duluth, Minn. — The Duluth Dental Forum in northeastern Minnesota celebrated its 75th anniversary in late 2019, stating that it was the second-oldest study club of its kind in the United States.

It's remarkable, said Dr. Jon G. Nelson, Duluth Dental Forum treasurer, how little the study club's mission has changed since the club's first official meeting during World War II.

For three quarters of a century, this group has been discussing clinical topics and practice management — and even food and brewing on occasion. It has served as a place to discuss dentistry but also to meet friends and colleagues and encourage the younger generation to continue. The Duluth Dental Forum may have a long history, but younger members keep sustaining the forum, ensuring a long life in the future.

Other study clubs have evolved over the years as a way for dentists to receive continuing education, network and, not least, share their experiences with others in a profession that can often be solitary. They're often fostered by state and local dental societies but are also formed and cultivated by other groups.

Many start by word of mouth, but others advertise and offer to help dentists join or create already established study clubs.

It's unclear what the longest existing active study club is in the United States, but the Dental Arts Society, in Chicago, for example, was created in 1907, according to the Chicago Dental Society, and is thought to be one of the oldest continuing study clubs, if not the oldest active one.

The Duluth Dental Forum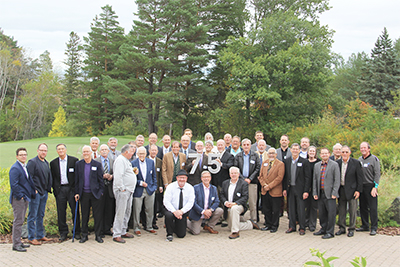 The Duluth Dental Forum's current bylaws specify that "the object of this organization shall be to bring together the members at regular meetings to intensely study such subjects as may be selected from time to time; to promote the spirit of good fellowship; [and] to cooperate with other organizations in all matters of mutual interest."
Illustrating the importance of outdoor pastimes to the group members, each year the study club organizes a fishing trip to nearby Canada at the Lake of the Woods, known for its walleye fishing.

The forum does not promote itself, but it is well-known in the region for its educational benefits as well as the comradeship it fosters.

"The forum mines local and regional resources for [speakers], from area health centers, the University of Minnesota, from our own dental community and from the community at large," said Dr. James Westman, a retired general dentist and member of the study club. "One of the most valued meetings are ones during which any or all members may present a case for discussion."

The group has members in their 20s and 30s, said Dr. John Wainio, a retired general dentist and Duluth study club member, providing hope that the club will last until its 100th anniversary and beyond with its young blood.

Dr. Wainio said stability is why the study club has remained strong, and that learning new things and sharing experiences are why he remains a member even though he retired from practicing dentistry several years ago.

Another member of the club, which limits its membership to 30 and requires three years of dental experience, had a reason for why it has remained active for so long.

"This area has been long revered for its camaraderie and known of quality dentistry," said Dr. Duane McDonald, a retired general dentist. "Unlike certain areas known mostly for a high level of competition, separatism and elitism, this district stands out for the shared respect between general dentists and specialists. I consider us all friends. These relationships further enhance the level of care provided."

Seattle Study Club

Moving forward, study clubs will thrive, said Dr. Michael Cohen, the founder and president of Seattle Study Club, which now counts more than 250 clubs around the world.

But initially, he said, it wasn't the case, and study clubs he found were lacking, often just a loose group of people who gathered at their local watering hole in an unorganized fashion.

"What people were missing was the way to clinically interact," said Dr. Cohen, who created his first dental study club in 1977 and the Seattle Study Club organization in 1992. "These are a way to help someone become the complete clinician."

Dr. Cohen wanted an organized club, so he created one. And then more.

"Everyone was an island," he said of other dentists. "I wanted to connect the islands."

While education and a curriculum were vital for the Seattle Study Club network, he also wanted the dentists to feel like part of something worthwhile where camaraderie was cultivated.

"The foundation is relationships — the human factor," Dr. Cohen said, comparing a study club with strictly online learning in front of a computer.

The world of CE is changing, he said, and knowledge acquisition is so much better in smaller groups than large lectures.

Study clubs, simply put, help build practices, Dr. Cohen said.

The Dawson Academy

The Dawson Academy study club program is an offering provided by the Florida-based Dawson Academy, named after and founded by Dr. Peter E. Dawson, the 2016 recipient of the ADA Distinguished Service Award.

The Dawson Academy is a postgraduate educational and clinical research facility dedicated to the advancement of dentistry. The academy runs more than 30 study clubs throughout North America.

Dr. Jeff Scott, an ADA member and clinical director of the Dawson Academy's study clubs, said the clubs are designed to be a place to gain knowledge, share ideas, build confidence and grow friendships.

"The mixture of types of practices and levels of experience encourage a wide variety of topics and perspectives that benefit everyone attending," Dr. Scott said.

Dr. Scott said the vision of the Dawson Academy's study clubs is to enhance the predictability of the members' restorative dentistry, focusing on implementation of the concepts and techniques taught in the seminars and hands-on workshops using real world examples of success in different practice settings.

"It is an interactive environment where we learn from each other what works and what doesn't," Dr. Scott said.

Dr. Scott had advice for other dentists who may be interested in joining any study club.

"Each doctor must decide what CE has the most impact on the practice and how it fits into their life," Dr. Scott said. "Ask respected colleagues if they are a member of a study club and ask about their experience. There are many types of clubs, some more social, some specialist-driven. Research online and make phone calls to each organization that appeals to them."

The advantages of study clubs include sharing successes — and failures — in a safe environment, Dr. Scott said.

"Most dentists struggle with the same issues — it is always reassuring that you are not the only one. Choose a group that you trust will lead you in the direction you want to go. It also reinforces the fact that we are part something much bigger than ourselves — the wonderful profession of dentistry."

Dentists who are interested in finding a study club near them, including ones that offer CE, can contact their local or state dental society.