Orlando
— "Our nation's veterans deserve the best."
Those were the words of ADA President Chad P. Gehani following his Jan. 7 visit to the Orlando VA Healthcare System's dental clinic.
Dr. Gehani, along with ADA Executive Director Kathleen T. O'Loughlin and other Association staff, were treated to a top-to-bottom tour of the 65-acre facility in Lake Nona, a community within Orlando. Dr. Rudy Liddell, president of the Florida Dental Association, also took part in the event.
During the tour, the ADA group met members of the Veteran Affairs Dental Services staff, both local and based in Washington, D.C., who spoke about their passion for treating veterans and changing lives.
"As federal members of the American Dental Association, it is important to highlight our commitment, pride and innovations in our service to Veterans," said Dr. Patricia Arola, Assistant Under Secretary for Health for Dentistry, Veterans Health Administration. "[This meeting] demonstrated VA Dentistry's mission to honor America's Veterans by contributing to whole health through the provision of exceptional oral health care."
Every day, VA Dental Services across the country provide more than 8,000 appointments to the more than 1.3 million veterans eligible for dental care and provide over 5.5 million dental procedures annually at 236 sites across the nation in collaboration with community partners. The Orlando facilities comprise four clinics in Florida: Lake Nona, Viera, Daytona and Lake Baldwin, and their 25 dentists treated more than 12,000 veterans in 2019.
"The ADA was honored to be invited to Orlando to visit this world-class facility," Dr. Gehani said. "Veterans' dental care is something the ADA cares deeply about, and it was great to see firsthand the services and treatments being provided here."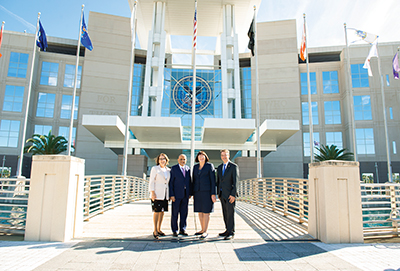 Official tour: ADA President Chad P. Gehani, second from left, tours the Orlando VA Medical Center. From left are Dr. Kathleen T. O'Loughlin, ADA executive director, Dr. Arola, assistant under secretary for health for dentistry, Veterans Health Administration, and Dr. Scott Trapp, director, VHA dental informatics & analytics.
Services provided in Orlando include routine to advanced procedures in oral surgery, prosthodontics, periodontics, restorative care and more. Teledentistry is also offered to veterans who require this service and urgent care is available daily on a walk-in basis.
The Orlando VA dental clinic uses state-of-the-art technologies including cone-beam technology, computer-aided design and manufacturing (CAD/CAM) technology, and laser technology, and has both in-house milling capabilities as well as 3D printing.
Many VA dental clinics, including Orlando, provide hospital-based services and are also responsible for completing clearance exams and treating referred veterans from multiple medical services, including oncology, orthopedics, medicine service, sleep service, inpatient urgent care, community living centers and homeless programs. They also provide 24-hour call to the emergency room, inpatient and community living centers.
Also, during the ADA tour, the visiting convoy was taken through the National VA Simulation Center co-located on the Orlando VA Medical Center campus — which includes everything from a mock ambulance to a mock nursing home room to several operating rooms that include all the equipment and supplies needed in real-life scenarios.
"It's very rewarding when dentists can treat veterans and have the opportunity to serve those who have served our country so well. Thank you for this incredible visit," Dr. Gehani said.
"Collaboration with the ADA allows for new opportunities to be considered and partnerships to be strengthened in our shared interest of advancing Veteran oral health," Dr. Arola said.
For more information about VA dentistry,
visit va.gov/dental
.