Dr. Loree Bolin has three mantras.
The first is: "Strength. Power. Focus. Go."

"Each came about through mental training for endurance events, have great cadence and apply to any situation," said the Washington-state member dentist, who has finished 10 Ironman competitions as well as marathons on all seven continents. Of those 10 Ironman races, two were in Kona, Hawaii, for the World Championships, where in 2015 she had a top-10 age group finish.

Even though her athletic prowess is impressive, it is not the most commendable part of Dr. Bolin's life, work and legacy.
Dr. Bolin's
Health & Hope Foundation
, founded in 2014 after her 25 years in private practice family dentistry in Lake Stevens, Washington, is impactful for being committed to breaking the cycle of poverty for women and children in underserved communities around the world, particularly in Tanzania, by providing health care, education and economic opportunity.
"Dentistry gave me skills and opportunity to provide care and help lift up ultra-poor families in the developing world," Dr. Bolin, 65, said. "Serving as a volunteer dentist in the Philippines, Honduras, Haiti, Tanzania, Uganda and Nepal beginning in 2007, I discovered that women and vulnerable, often orphaned children are at the greatest risk. It seemed that the care I was delivering was merely scratching the surface and not addressing many of the underlying problems that placed this population at risk."
So in 2014, after gaining seven years of valuable international experience, the 1984 University of Washington dental school graduate established the Health & Hope Foundation to work at the community level with local leaders to promote sustainable change in addressing challenges in education, economic opportunity and disease prevention — not just oral health.
"The result is families who gain health, hope and pride," Dr. Bolin said. "An opportunity to improve lives and reduce suffering — does it get better than that?"
Dr. Bolin's work has drawn accolades from the dental community in her home state of Washington, and now Dr. Bolin is being recognized nationally by being named the recipient of the ADA's 2020 Humanitarian Award, bestowed by the ADA Board of Trustees.
"On behalf of the Board of Trustees, I was thrilled to call Dr. Bolin to let her know she was the recipient of the ADA's 2020 Humanitarian Award," said ADA President Chad P. Gehani." I was impressed not only for her international volunteerism since 2007 but also by her Health & Hope Foundation, which has helped countless people around the world and served as an inspiration to dentists and staff in her local and statewide dental associations through her selfless efforts in making a difference. I am glad our member dentists nationwide will now get a chance to learn more about her and perhaps even aspire to follow her footsteps. Dr. Bolin is a shining testament to the gift that dentistry provides in her promotion of not only oral health but also overall health."
Established in 2008,
the ADA Humanitarian Award
annually honors an ADA member for creating a legacy of volunteer work and is one of the Association's highest honors. Criteria for the Humanitarian Award include significantly improving the quality of life and oral health of individuals both in the U.S. and abroad over a period of 10 years or more; demonstrating significant leadership; and serving as an inspiration to others both in the dental profession and the general population.
The award includes a $10,000 donation to the dental project of the recipient's choice — the Health & Hope Foundation, in Dr. Bolin's case.
Second mantra
Dr. Bolin's second mantra is, "Smooth as silk, tough as nails."
She likens her athletic toughness to her humanitarian spirit.
"I absolutely both see and feel connections between two passions, impacting change for the underserved and long-distance athletic events," Dr. Bolin said. "I was not blessed with fast-twitch muscle fibers, but I am good at long-distance endurance events. The requisite training does provide strength, endurance and mental toughness. Creating change to break the cycle of poverty within the developing world's families is the ultimate endurance challenge."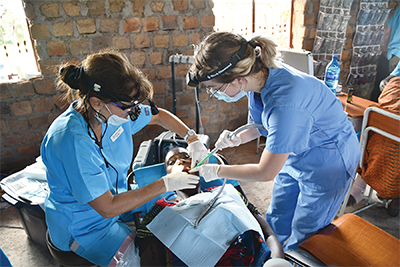 Delivering access to education and preventive health care that provides sustainable change, in order to break the cycle of poverty, is the goal of the Health & Hope Foundation, which explains her extensive service in Tanzania over the past half-decade-plus. It is also important to her that her patients' overall health is addressed along with their oral health.

"From my first experiences overseas, it was readily apparent that these patients had more needs than just dental," Dr. Bolin said. "From Health & Hope's Healthcare Outreach we have provided dental care, kits and education for safe water, washable feminine hygiene kits, and networked with local health care providers to deliver medical and vision care. Since then we have added women's specialty care. In the clinics I met elderly widowed women leading extremely hard lives with physical ailments from their work – crushing rocks together by hand to make gravel while raising multiple orphaned grandchildren."

Exposure to the dire conditions of her young patients led Dr. Bolin to create a program she said she is proudest of.

"We learned of the huge number of orphaned, vulnerable and undernourished children often unable to attend public school due to barriers including lack of basic needs and school fees. For those able to attend, class sizes of over 100 make learning difficult. Education is critical. For example, in Tanzania, a girl who receives a basic (elementary) education is three times less likely to contract HIV. We opened Tumaini Tutor School to provide free tutored instructions six days a week to orphaned and vulnerable children as well as establishing a nutrition program for the most underfed."

Tumaini literally means "hope" in Swahili. Tumaini School's tutored, personalized classes of 25 students delivers on that hope for a meaningful education.
"Despite the current challenges in Tanzanian public schools, they are necessary," Dr. Bolin said. "A Tumaini Student Scholarship Program provides funds for 20 of the most impoverished students to attend."

Tumaini Tutor students are surpassing national numbers for school retention and pass rates, Dr. Bolin said.

"Tumaini has become a family to 200 orphaned children who are nurtured, mentored and educated," Dr. Bolin said. "Our once little remodeled chicken coup has grown to become a home and a family. I remember a time. It's 7 p.m., the sun set an hour ago, and there are no electric lights. I sit with children on the steps in the dark, a child holding each hand and a few braiding my hair. I say, 'OK, time to go home.' 'No, Dr. Loree,' they said. 'Tumaini is home.'"

Women's health education was also nonexistent to many of the patients she met.

In Tanzania's Nainokanoka Village near the Ngorongoro Crater, Dr. Bolin was once seated in a circle with 12 Maasai women, each woman a leader in her respective village. The Maasai are a polygamist society with limited access to health care and education, so Dr. Bolin spoke with them about puberty, menses, childbirth and menopause.

"I mentioned hormone changes causing body changes, and animated faces became blank," Dr. Bolin said. "They had no idea what I was talking about. I learned they believed monthly bleeding was from hard work. It started at around 11 years when you worked hard with cattle, and stopped when you were too old for the hardest work. All the lights went on as we linked the hormone changes to puberty and premenstrual syndrome and delight followed as newly empowered women learned emotional changes made sense and they had some power over conception by charting their monthly cycles. The ladies were very excited to receive the washable menstrual kits our foundation provides."

In addition, Dr. Bolin established a program in Tanzania called the Women's Business Program, which offers business training and mentorship in product selection, hygiene, marketing and customer service and savings. Small group businesses provide cross-coverage and group buying power through a self-sustained micro-loan program, with current businesses including farming, poultry, grain sales, fruits, vegetables, fish, baked goods and traditional arts. The foundation supports the businesses by buying eggs, fruit, porridge and baked goods from the groups, which end up providing daily meals for the underfed children attending Tumaini Tutor School.

In 2018, according to the foundation's annual report, more than 45 businesses established though the Women's Business Program were being run by women.

Third mantra

Dr. Bolin's third mantra is, "You are stronger than you think you are," and she is not resting on her laurels.

The year 2020 will include at least two humanitarian trips by Dr. Bolin and her homegrown volunteers, which have included her son, Taylor Bolin, 30. She has been married to orthodontist Dr. Tim Shields for 16 years.

The first outreach she will lead will be in Tanzania. The first clinic of the trip will be at her base of operations in Mwanza, sprawled along the southern end of Lake Victoria. Foundation volunteers will work in a small village where the foundation's Tumaini Tutor School and Women's Business Program are located. Here they will provide a community program which offers dental, vision and medical care, as well as academic and business mentorship.

The second Tanzanian trip will be to Nainokanoka Village, where she first held a clinic in 2015. She and the foundation have been busy helping the community with water quality assessment and treatment and getting solar panels. She also helped initiate a sustainable honey business with indigenous mountain honeybees.

Her third trip will be in northern Mongolia, bringing much-needed access for humanitarian services to the Tsaachin, a nomadic tribe of reindeer-hunting people. The volunteer team will horsepack the delivery of dental care, vision correction, first aid education and water safety tools.

Drs. Brittany and William Nichols are two volunteers who have served in countries with Dr. Bolin's foundation. In an essay that supported Dr. Bolin's nomination, Dr. William Nichols said that he first accompanied Dr. Bolin overseas in 2011 as an undergrad. The trip was four weeks in northern Tanzania, serving impoverished people in two villages that were a six-hour drive away from one another.

"[Our] group brought over 18 plastic tubs worth of supplies," Dr. Nichols recalled. "Our backpacks were filled with toothbrushes and gauze. This is a classic example of Loree's perseverance and reach and her ability to always make it work through sheer hard work. It is not enough for her to travel 4,000 miles offering her time and passion to provide free health care. She will travel 4,000 miles and then follow that with a grueling two-week clinic filled with long nights, rallying the troops and convincing everyone to transport all that equipment overland so that the same care can be offered to those who can't travel to the care team."

"By the end of my two clinical weeks," Dr. Nichols said, "I was not only sold on dentistry but I was committed to giving back the way Loree had shown me."
To watch an ADA-produced video about Dr. Bolin, visit https://www.youtube.com/watch?v=mV18yn4m19o&feature=youtu.be

Learn more about Dr. Bolin's Health & Hope Foundation at healthandhopefoundation.org.

To explore international oral health volunteer opportunities, go to the ADA's international volunteer website.
This story was updated in October, 2020.