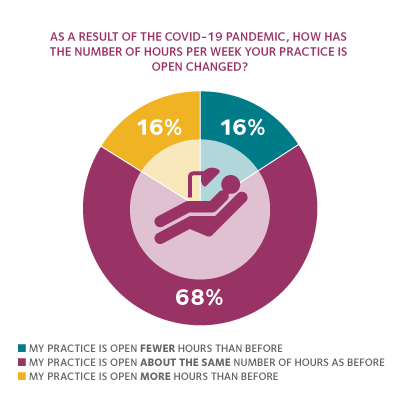 Patient volume has recovered to an average of 70% of pre-COVID-19 levels, though there are signs the rebound is slowing down, according to data from the ADA Health Policy Institute impact of COVID-19 poll for the week of June 29.
The poll received 4,371 responses from dentists across the United States. In the 27 states that have been open for elective care for at least nine weeks, patient volume continues to increase, but at much lower rates than in previous weeks. Staffing levels in dental offices is stabilizing, with employment in the dental sector recovering to about 90% of pre-COVID-19 levels. However, re-hiring of employee dentists continue to lag behind the pace of dental staff re-hiring. The Bureau of Labor Statistics data showed employment in dental offices in June was at 90% of pre-COVID-19 levels, in line with data from HPI's survey.
"It is unclear how much of an issue the reduced maximum patient capacity in dental offices is for dentists," said Mark Vujicic, HPI chief economist and vice president. "Evidence suggests dentists were 'not busy enough' and could see more patients before COVID-19."
Very few dental practices have extended their hours as a result of COVID-19.
"Taken together, the data suggests the dental care rebound is slowing and we might be soon approaching a plateau in terms of patient volume. The evidence suggests that capacity constraints in dental offices might be just as important as demand-side factors in limiting patient volume," said Dr. Vujicic.
Complete results comparing results for the eight waves, including results broken down by practice size, dental services organization status and at the state level, are available at https://bit.ly/3iIqVhA.
This poll data was discussed in the latest HPI webinar hosted by HPI chief economist and vice president Marko Vujicic. The July 7 webinar recording and all previous webinars are available on the ADA Youtube channel. Subscribe to receive information on new videos as they are released.