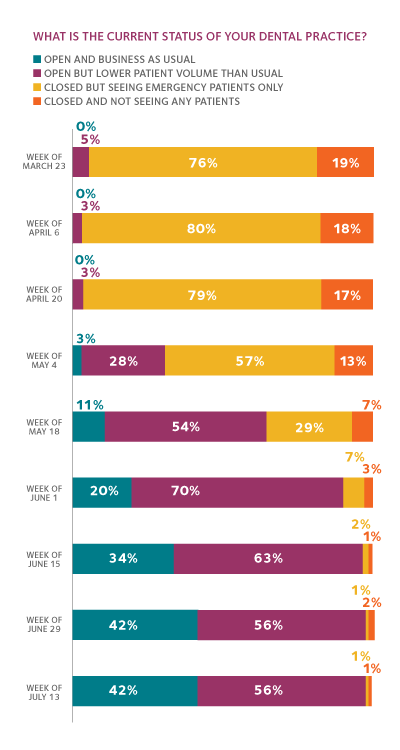 The economic recovery of dental offices remained largely unchanged since two weeks ago, with 98% of dental offices open and patient volume at 71% of pre-COVID-19 levels, according to data from the ADA Health Policy Institute impact of COVID-19 poll for the week of July 13.
The poll received over 4,300 responses from dentists across the United States. Texas, Florida and California did not see any noticeable decrease in patient volume despite rising COVID-19 infection rates. Broader analysis indicates little correlation between patient volume and the number of new COVID-19 cases among the population.
New consumer polling commissioned by HPI indicates that about 72% of adults are comfortable visiting the dentist right now and another 14% are willing to go if they had some reassurance from their dentist, the Centers for Disease Control and Prevention, or other authorities. The remaining 14% indicate they will not visit the dentist again until there is a vaccine or proven treatment for COVID-19. Accordingly, at this time, patient volume in dental offices likely has an upper rebound of around 85% of pre-COVID-19 levels.
"Taken together, the data suggest the dental care rebound is tapering off and we are reaching, if not already in, the 'new normal,'" said Marko Vujicic, Ph.D., HPI chief economist and vice president.
Complete results comparing results for the nine waves, including results broken down by practice size, dental services organization status and at the state level, are available at https://bit.ly/2CG5Ljo.
This poll data was discussed in the latest HPI webinar hosted by Dr. Vujicic. The July 21 webinar recording and all previous webinars are available on the ADA YouTube channel. Subscribe to receive information on new videos as they are released.