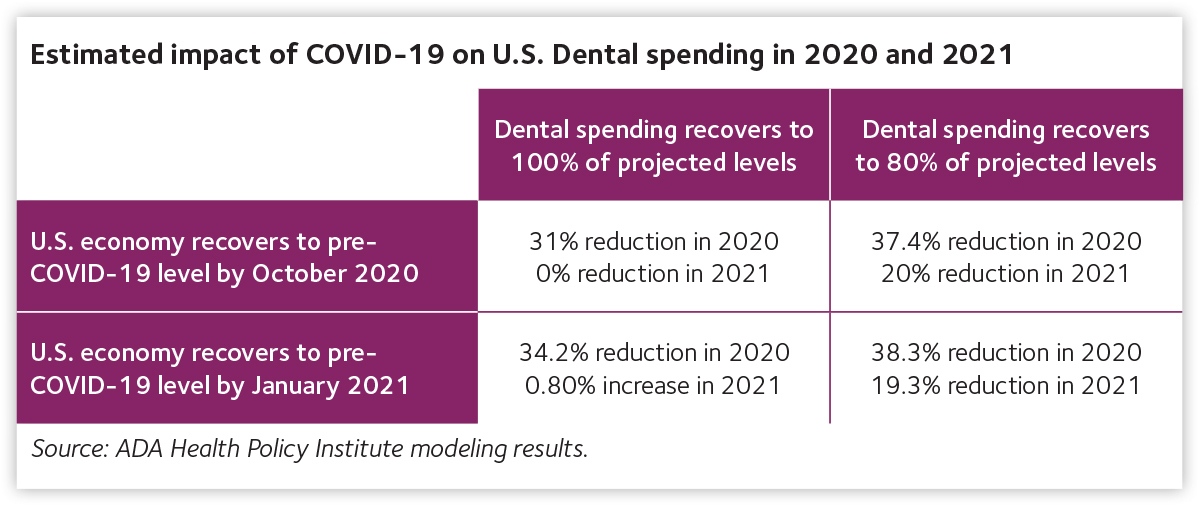 Dental spending among Americans will continue to decline in 2020 before making a comeback in 2021, according to an updated research brief from the ADA Health Policy Institute modeling the impact of COVID-19 on dental spending.
Since the publication of HPI's dental spending brief in April, dental practice activity in terms of patient volume and practice employment has rebounded, though it is still below pre-COVID-19 levels. As a result of this rebound, HPI's latest projections are more optimistic than they were two months ago. Depending on the scenario, U.S. dental care spending is now projected to decline from 31% to 38% in 2020, and anywhere between 0% to 20% in 2021 compared to pre-COVID-19 estimates. Although HPI's analysis is still subject to major uncertainty at this stage, they will continue to update it as more data become available.
The webinar, held June 23 and hosted by Marko Vujicic, HPI chief economist and vice president, also covers topics such as the pay status of dental staff, how much personal protective equipment practices currently have and a closer look at data from the 27 "early-opener" states.
The updated research brief is available on the HPI page of ADA.org. The June 23 webinar and all previous webinars are available on the ADA Youtube channel. Subscribe to receive information on new videos as they are released.