Bowie, Md. — In the midst of a global crisis, Dr. Leo E. Rouse continues to display the benevolence that defines him.
"During the COVID-19 pandemic, I would get a call or a text from Leo daily, asking 'Are you OK? How are you holding up?'" said Dr. Karen West, president and CEO of the American Dental Education Association. "He was there to listen and guide me through these difficult and uncertain times."

"In other words, Dr. Leo Rouse cares," Dr. West said.

That concern for his fellow man, as well as for leadership forged in the U.S. Army and carried forth through academia, has helped make Dr. Rouse the 2020 recipient of the ADA's Distinguished Service Award, the highest honor that the Association bestows.

"On behalf of the Board of Trustees, I am proud to present the ADA's Distinguished Service Award to Dr. Leo Rouse," said ADA President Chad Gehani. "On top of being the first African-American board president of the American Dental Education Association, he was commander of the U.S. Army Dental Command, becoming its first African-American leader, educating and inspiring thousands of American dentists to serve their country and communities. I knew him when he was the dean of the Howard University College of Dentistry. He is a man of upstanding character who is passionate about our profession. I am glad I get to recognize him with the ADA's highest honor."

Leadership at his core

Dr. Rouse, a resident of Bowie, Maryland, with wife of 52 years Yvonne, is someone who has lived a circle of life, coming back to the place where his academic life began.

After graduating from the Howard University College of Dentistry with his dental degree, he spent a quarter century in the U.S. Army as a military dentist and leader, and then returned to Howard University after hanging up his uniform, eventually ascending to his position of dean of the dental school from 2004-2015. While in academia, he was a driving force within the American Dental Education Association, becoming president of its board in 2011, with a focus on embracing diversity. He remains dean emeritus of the Howard University College of Dentistry.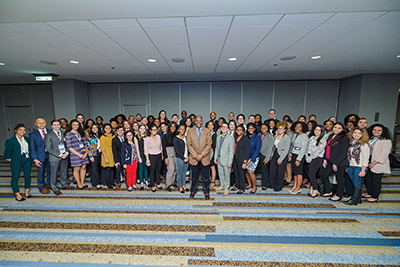 Dr. Rouse, president-elect of the American College of Dentists, was humble when he learned of his honor from the ADA, and attributed the award to being motivated to lead through the philosophy of being a servant leader.
"I am inspired by the young men and women of our profession who through our tremendous dental education programs provide selfless service, quality oral health care, understand the social determinants of health, recognize the importance and value of access to care — all through ethical behavior, professionalism and leadership," Dr. Rouse said.
He quoted the late pastor and professor Howard Hendricks to describe his approach to leading people, whether they be military subordinates or patients. "'People don't care how much you know until they know how much you care.' Also, another Howard Hendricks quote is, 'The measure of you as a leader is not what you do, but what others do because of what you do.' Bottom line: Lead by a good example."
That commitment, of course, extended to being a good dentist.
"Dentistry and patients are important to me because I am committed to ensuring that oral health is fully integrated to systemic health," Dr. Rouse said. "I am a champion of interprofessional education and collaborative practice. I reflect often on the words of Dr. David Satcher, former U.S. surgeon general, who said that oral health means more than just healthy teeth."
Army strong
Dr. Rouse's journey to what he would become began at an early age, he said, with parents who taught him values, the importance of humility, and, above all, how to serve the community. His father was a World War II veteran, and encouraged his son to complete Army ROTC training while an undergraduate at Howard.
"The officers and mentors at Howard ROTC had a major impact on my decision to pursue the Army as a career officer," Dr. Rouse said.
As for dentistry, he was influenced by his family dentist — a Howard University College of Dentistry graduate — who often reminded him of the meaning of being a good citizen.
"Plus, he admired my ability to whittle things with my hands," Dr. Rouse said with a laugh.
Being in the Army helped him be a better dentist, and vice versa, he said.
"As an Army dental officer, you serve two professions: the profession of arms and the profession of dentistry," Dr. Rouse said. "You learn selfless service in the military and as a military health care provider you learn the value of patriotism, valor and an appreciation for optimal oral and total health care, which is a key factor in the readiness of our armed services."
Oral health is rarely the first thing that comes to mind when people think about national readiness, but dental conditions have been among the most common medical reasons for deferment from military service, said Dr. Richard W. Valachovic, former president and CEO of the American Dental Education Association and who has known Dr. Rouse for more than two decades. (The term 4-F, which means a medical deferment, originated during the Civil War and was used to disqualify recruits who did not have four front teeth with which to tear open gunpowder packages.)
"Dr. Leo Rouse has provided distinguished service throughout his career in our profession," Dr. Valachovic said. "He served our country as the commander of the U.S. Army Dental Command … And most importantly, he served as a provider of dental care for thousands of patients during his career."
His sense of selflessness and belief in the importance of diversity was amplified by his time in the Army, which included stints in both Korea and Germany.
"My military service and assignments around the world taught me the value of serving in different cultures and respect for those cultures as an ambassador for our nation," Dr. Rouse said."
Dr. Rouse kept on getting promoted through the ranks, eventually assuming the role of commander and chief operating officer of the U.S. Army Dental Command. The job consisted of operational command and control of dental assets worldwide, with seven major subordinate commands, 172 dental clinics, 4,000 personnel (officers, enlisted soldiers and civilians) and a budget of $180 million. He called it the highlight of his military career, ensuring the oral and overall health of soldiers around the world who wouldn't have to suffer from dental emergencies in the throes of battle.
"If you can't bite, you can't fight," Dr. Rouse said.
Entry into academic world
Dr. Rouse began his academic career as a faculty member in the dental science division at the
Army Medical Department Center and Schoo
l at Fort Sam Houston in San Antonio, Texas, where he eventually served as chief of the division. That experience planted the seed for teaching, which resulted in his decision to accept the opportunity to teach at his alma mater.
He jumped at the chance.
"I aspired to follow Howard's mission to 'build educated leaders who serve the world,'" Dr. Rouse said. "I feel as though as a member of the Howard community, I upheld the Howard University motto of 'Truth and Service' with pride."
"We were fortunate to have Dr. Rouse join the faculty at his alma mater as the associate dean for clinical affairs, then shortly thereafter being appointed as dean," said Dr. Andrea D. Jackson, professor and current dean of the Howard University College of Dentistry. "Throughout his tenure, his outstanding leadership, creativity, decisiveness and clear vision of dental education was evident to all. Always at the forefront of cutting-edge philosophies, he became the spokesperson for many innovative, conceptual practices for dentistry and interprofessional education for health care providers."
Being in academia allowed him to become involved with the American Dental Education Association. Dr. Rouse served in many capacities with that association, including chair of the minority affairs committee, chair of the Council of Deans, and then president of the board.
Following his retirement as dean of the Howard University College of Dentistry, he became a member of the American Dental Education Association staff as senior scholar in residence, liaison to the Council of Deans, and chair of the American Dental Education Association Gies Foundation board of directors.
He presently serves as an American Dental Education Association consultant.
"My work there is important because it gave me the opportunity to share my skills in leadership, the professional development of others, a focus on building teams and serving as a mentor," Dr. Rouse said.
Words of tribute
Dr. Rouse's career and legacy have brought him accolades from his colleagues in dentistry and the military.
Dr. Theresa S. Gonzales, executive director of the American College of Dentists, said the two of them served together in Germany.
"Colonel Rouse has modeled the way for successive generations of citizen-soldiers who placed duty and honor above all else," she said. "As a military commander, he was effusive in praise and uncommonly disciplined in his criticism of the troops. He was the commander that we all wanted to become and he helped us acquire the requisite attributes for command. He taught us the importance of selfless service and personal courage and the absolute necessity of imbuing integrity and honor as core values. He is the real deal and I am privileged to have been mentored by this extraordinary gentleman."
"Unwavering integrity, selfless service and uncompromising devotion to duty have been the hallmarks of his contributions," said Dr. Patrick D. Sculley, a retired Army major general who has known Dr. Rouse for nearly a half century. "All who have had the privilege to know and work with him have been the beneficiaries of his stellar example of leadership, and the entire dental profession can take great pride in how he has represented us."
Dr. Lonnie H. Norris, dean emeritus of the Tufts University School of Dental Medicine, said that as a fellow minority dean, he and Dr. Rouse felt a special kinship at their first meeting together.
"Dr. Rouse and I immediately established a relationship of mutual respect and support of each other," Dr. Norris said. "He has been a role model in breaking barriers and exceptional leadership in many of our professional organizations."
Dr. Jeanne Craig Sinkford, dean emeritus of the Howard University College of Dentistry, said Dr. Rouse is a "champion of racial, gender and ethnic diversity across the health professions … He is a transformational leader who is in constant pursuit of higher levels of motivation, vision and collaboration."
Dr. Patricia Blanton, past vice president of the ADA and the first female president of the Texas Dental Association — who like Dr. Sinkford has been a previous recipient of the Distinguished Service Award — said Dr. Rouse was a "leader of leaders."
It's been a wonderful life, Dr. Rouse said.
"I love being a dentist because in my professional career I have been fortunate to work in an environment that improves the overall health of patients in a military, civilian and academic setting," he said. "I have also been blessed as an educator to help influence the next generation of dentists in their contributions to improve the overall health of patients."