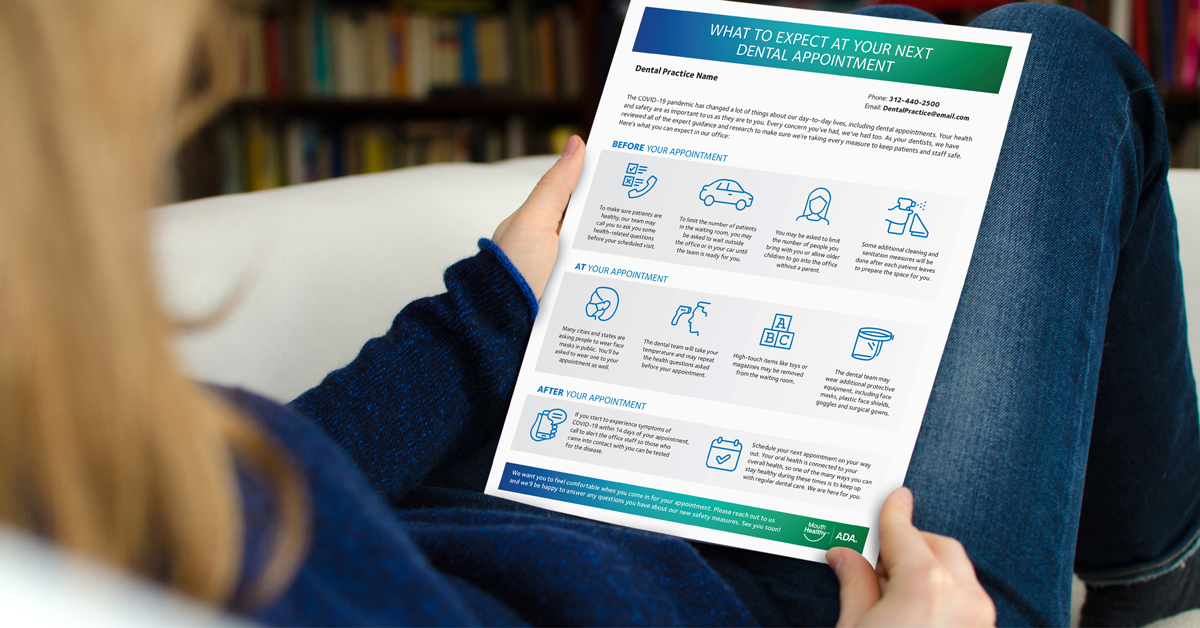 The ADA launched a Patient Return Resource Center July 7 with customizable communication tools for practices to use with patients during this time when many dentists are reopening.

The 10-page members-only guide is based on the ADA's Return to Work Interim Guidance Toolkit developed by the ADA Advisory Task Force on Dental Practice Recovery.

These tools are intended to help support dentists and their dental teams in communicating about the changes patients will experience when returning for non-emergent care.

This resource allows for customization throughout so dentists can tailor specific points to their practice and patients.

The contents include:
• A step-by-step visual guide to demonstrate to patients what will happen before, during and after their visit.
• A comprehensive FAQ to reassure patients with sample responses that address potential patient concerns.
• Different Facebook post options, complete with ready-to-go images and simple photo suggestions.
• Different versions of email and text messages to communicate the office's specific protocols and meant to reassure patients of the practice's commitment to maintaining up-to-date infection control procedures.
• Four downloadable signs dentists can print for their practice.

The ADA is collaborating with dental manufacturer Dentsply Sirona to help promote the resource center to dentists across the country. As part of Dentsply Sirona's continued pledge to create healthy practices for healthy smiles and drive practice recovery, Dentsply Sirona sales representatives will share the resource center link with ADA members this summer.