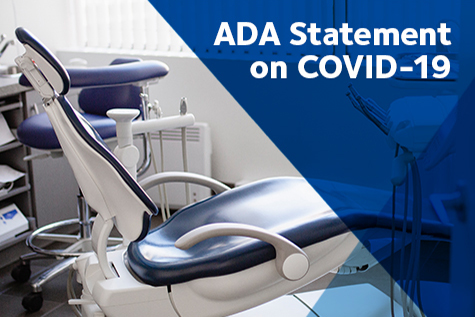 The ADA is recommending that dentists nationwide postpone elective procedures in response to the spread of the coronavirus disease, COVID-19, across the country.

"The American Dental Association recognizes the unprecedented and extraordinary circumstances dentists and all health care professionals face related to growing concern about COVID-19," according to the March 16 statement from ADA President Chad P. Gehani. "The ADA is deeply concerned for the health and well-being of the public and the dental team. In order for dentistry to do its part to mitigate the spread of COVID-19, the ADA recommends dentists nationwide postpone elective procedures for the next three weeks. Concentrating on emergency dental care will allow us to care for our emergency patients and alleviate the burden that dental emergencies would place on hospital emergency departments.

"As health care professionals, it is up to dentists to make well-informed decisions about their patients and practices. The ADA is committed to providing the latest information to the profession in a useful and timely manner. The ADA is continually evaluating and will update its recommendation on an ongoing basis as new information becomes available. Please visit ADA.org/virus for the latest information. If you have questions that are not answered by the FAQ posted at ADA.org/virus, please email MSC@ada.org."

COVID-19, which is now deemed a pandemic by the World Health Organization, and infections have been reported in 151 countries, including the U.S. Coronaviruses are a large family of viruses that are common in animals and people, causing the common cold or more severe illnesses, such as SARS and MERS.

As of March 16, there have been 3,487 cases in the U.S., according to the CDC. As of March 16, there have been 167,511 cases globally, according to the World Health Organization.