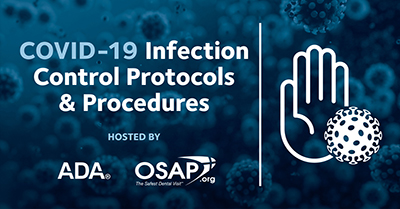 On March 20, the ADA will release an on-demand webinar offering answers to frequently asked questions about infection control protocol and procedures related to COVID-19. The program, COVID-19 Infection Control Protocols & Procedures, represents a partnership with the Organization for Safety, Asepsis, and Prevention.
Register
to receive an email announcing the program's availability for on-demand viewing late Friday.
Presenters Eve Cuny and Kathy Eklund will answer questions submitted by dentists and dental team members in response to a survey that was posted on the ADA's website earlier this week.
The presenters are recognized experts in infection control:
• Ms. Cuny is the director of environmental health and safety and associate professor at the University of the Pacific Arthur A. Dugoni School of Dentistry, where she is also assistant dean for global relations. She is an expert reviewer for the Centers for Disease Control and Prevention.
• Ms. Eklund is the director of occupational health and safety and the Forsyth research subject and patient safety advocate at The Forsyth Institute. She is an adjunct assistant professor at the Forsyth School of Dental Hygiene at the Massachusetts College of Pharmacy and Health Sciences and serves as a consultant to the ADA Council on Dental Practice.
For more information about COVID-19 and the ADA's response to the pandemic, visit
ADA.org/virus
.