Editor's note: In November 2017, the ADA News launched Becoming a Dentist, a series of stories that follows three dental students at the University of Maryland School of Dentistry — Dan Yang, LaShonda Shepherd and Ben Horn — during their journey to becoming dentists. See all the stories in the series at ADA.org/BeADentist.
Baltimore — The question surfaces at the beginning of dental school, maybe even sooner, when the dream first takes hold.

What kind of dentist do I want to be?

Do I want to be a general dentist? An oral surgeon? A pediatric dentist?
Every student's path to becoming a dentist is unique. Choosing whether to specialize is no different. Some students go in knowing they might want to specialize. Others may follow in the footsteps of a relative, shadow a dentist they know, or develop an interest after starting school.
"Our aim is to ensure that, through their coursework, discussions with faculty, clinical experience, and mentoring from faculty and alumni, the students have a chance to really learn about the full range of specialties as well as other career options within the oral health profession," said Dr. Karen Faraone, associate dean of student affairs.

The choice for those who choose a recognized specialty over general practice now totals 11. The National Commission on Recognition of Dental Specialties and Certifying Boards has recognized the following specialties: dental anesthesiology; dental public health; endodontics; oral and maxillofacial pathology; oral and maxillofacial radiology; oral and maxillofacial surgery; oral medicine; orthodontics and dentofacial orthopedics; pediatric dentistry; periodontics; and prosthodontics.

The University of Maryland School of Dentistry offers a broad range of electives and clinic rotations to provide students with the "knowledge, skills and values" to prepare them for the practice of general dentistry.

Students are introduced to the specialties as part of their formal curriculum throughout years 1-3. In their fourth year, they are given the option of participating in the school's clerkship program — a clinical elective program that allows selected students to pursue further studies in activities specially designed to meet their needs and interests, said Dr. Patricia Meehan, associate dean for academic affairs. The students then devote a portion of their clinic time to this specialized program, and their remaining clinic time is spent comprehensively treating patients in the school's regular program.

Another unique opportunity is an elective course — "Research with Mentor"— which is open to all dental students.

"The goal of this course is to integrate research into dental education and to provide individual mentorship to the students who are interested in research," said Dr. Meehan. "Through the personalized training in research, students have the opportunity to prepare themselves well for future career development."

The students are also required to assist the residents in the school's advanced dental education program. All D3 and D4 students participate in block rotations, including oral surgery, radiology, special patient care and geriatrics, and pediatric dentistry.

Dan has been considering pursuing an orthodontics residency since his second year. This year, he's taking an elective seminar in pediatrics, which he considers a natural fit since so many orthodontists treat a younger population.

"It's a great opportunity to learn more about the field of dentistry, since dentistry on kids is naturally different than dentistry on adults," he said. "With ortho, a significant portion of your patients will be kids so I'm seeing this as an opportunity to gain exposure to this population, learn about patient management — and many concepts are shared between the two specialties, as well. And the seminars during lunch have been really interesting so far."

Even if he wasn't considering applying for an orthodontics residency, Dan would learn about the specialty during scheduled rotations in the school's orthodontics clinic.

"We're required to stop by during their clinic sessions and assist the residents in whatever they are doing at their appointments," he said. "It's up to the residents to give us assignments, and it's different every time we go! Everyone is very friendly, loves to teach those of us that show interest in the specialty, and the assistants there are really nice, too. All of it adds up to me having a really good experience whenever I get the chance to stop by."

In addition to specialty practice, there are other career pathways, such as a career in federal services or academics.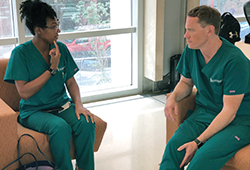 As a Navy Health Services Collegiate Program recipient, Ben has known since he began school that following graduation he will continue on active duty as a Navy dentist. (He previously served from 2005-2017.)
Now that he's got five-plus semesters under his belt, he's also starting to consider a specialty.

"Specializing was always in the back of my mind," he said. "The Navy has just about every specialty available. There is something for everyone."

He's enjoyed all the specialty rotations he's done at UMSOD, but periodontics is the specialty that has captured his heart.

"When I've assisted residents in periodontics I have really loved what I've seen. I have enjoyed every aspect of dentistry, but perio has sparked the most interest and makes the most sense for me," he said.

He plans to apply for a residency in the Navy's periodontics program at the Navy Post Graduate Dental School in Bethesda, Maryland, but knows competition is fierce. "At the end of the day, I will be a Navy dentist and that's what matters. Someone once told me there are no bad aircraft to fly as a Naval Aviator. I'm confident the same will be true as a Navy dentist," he said.

As for LaShonda, like Dan, she's also been doing an elective in pediatrics, but she's also keeping her options open.

"I haven't made definitive plans regarding life after dental school yet, but I have started to research residency programs," she said. "We'll have to wait and see."

For more information on advanced dental education programs accredited by the Commission on Dental Accreditation, including data on student enrollment, visit the ADA Health Policy Institute.