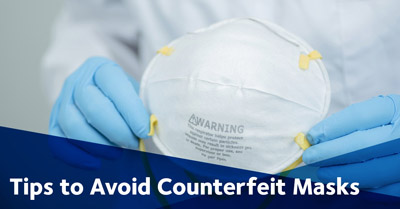 The American Dental Association has created a tip sheet with guidance from the National Institute for Occupational Safety and Health group at the Centers for Disease Control and Prevention to help health care professionals avoid buying or using counterfeit N95 respirators, which are often simply referred to as masks.

Tips for spotting suspicious websites or marketplaces before buying a mask include unfinished content, broken links, a primary email contact that uses a free email service, and typos, bad grammar and other errors. Other red flags in the third-party marketplace include the use of terms like "legitimate" and "genuine," customer feedback that seems suspicious, inconsistency in the type of products sold, prices that are too good to be true and claims of "unlimited stock" during times of shortage.

Signs that an N95 mask may be counterfeit include lacking or misspelling NIOSH on its marking, lacking an approval number or any type of marking and having ear loops instead of a headband. Counterfeit masks also may claim approval for use by children and have decorative add-ons.

For more information, including examples of counterfeit N95 masks, visit Counterfeit Respirators/Misrepresentation of NIOSH-Approval on the CDC website.

The ADA also offers a free, on-demand webinar called Respiratory Protection in the Era of COVID-19 that includes presentations from two infection control experts from the Organization for Safety, Asepsis and Prevention and focuses on the steps necessary to introduce the use of N95 and other masks into the dental office.

The ADA also created a chart that highlights the characteristics of several common types of masks and their appropriate uses.

For other COVID-19 resources from the ADA, visit the ADA Coronavirus (COVID-19) Center for Dentists.