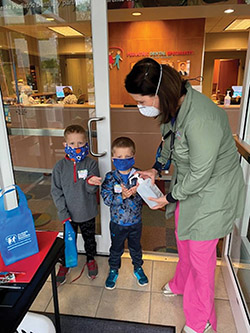 Hastings, Neb. — Pediatric dentist Dr. Jessica Meeske and her family were on their way to a basketball tournament when she found out about her state's stay-at-home order that would force her to close her thriving practice on March 17.

"My daughter was a college senior at Hastings College and they were having the season of their life," Dr. Meeske said. "Within a few hours from playing their first game, the whole event was canceled. It was a tough way to end the season as a No. 1 seed in their bracket."

Dentists from across the nation have suffered and endured and tried to live and work in a new normal. Dr. Meeske is someone who has been able to open successfully — she was back in business the morning of May 4.

Dr. Meeske, vice chair of the ADA Council on Advocacy for Access and Prevention, has a message for those whose who are reopening practices as their state mandates are lifted and embarking on the long and winding road to recovery.

"My advice is not to practice in fear," she said. "Patients need dental care and we have the responsibility and privilege to provide it."

Dr. Meeske practices in rural Nebraska, serving the two communities of Hastings and Grand Island. Both were considered hot spots for COVID-19 due to the meatpacking industry, she said. Her patients include those that travel over two to three hours to receive dental care and about 60% of her practice is patients with Medicaid, Dr. Meeske said. When she closed her practice, many surgeries had to be delayed for young children with early childhood caries.

She still treated emergencies, but found quickly early on that normal operating procedures had to be tossed aside.
"I have always perceived the goal during the pandemic is to minimize risk of COVID-19 spread by layering areas in which we can control risk," Dr. Meeske said. "This has been a combination of pre-screening patients, family waiting in the car, masks for all in the building, proper PPE to the extent we can get it, minimize aerosols and delay treatment or manage caries medically to prevent adverse outcomes. I embraced teledentistry and found it to be easy to use, and I was able to convey helpful advice to patient families without needing the patient to come in or burn through more PPE."

From her new office at home, all meetings became virtual. Her daughter moved home from college due to the pandemic. Dr. Meeske spent a lot of her down time participating in ADA webinars and reading updates on ADA.org. "My daughter was our in-house tech support, as I'm sure many students were for their parents," Dr. Meeske said.

Dr. Meeske said she had the the good fortune to have a competent staff, partner doctors who communicated well and a very proactive officer manager. They divvied up what was needed to be done to address the immediate concerns of patients, cashflow and staff wages. The dental team also used that seven-week hiatus — besides seeing emergencies — to address a long-needed list of projects. Some staff worked from home and others came in after hours in an attempt to responsibly social distance. "It's nice when you don't have to go it alone," she said.

She also appreciated the "small-town community banker" who was in touch with her daily until Dr. Meeske's Small Business Administration's Paycheck Protection Program funding made it into her account. The money "was a huge relief."

When it came to the decision to open, even that came with unexpected challenges, and it was not easy.

"It was confusing because our governor gave the OK for dental practices to open on May 4, but our local health districts had a directed health measure for no elective procedures," Dr. Meeske said. "The State of Nebraska Board of Dentistry gave the go-ahead to abide by the governor's orders. We chose to follow the board and our governor. However, we felt the need to reach out to our health district directors and communicate our intentions and our reopening plans to keep everyone safe."

Once she made the firm decision to reopen, Dr. Meeske said she didn't feel too much trepidation, other than worrying that some of her colleagues thought she was putting people at unnecessary risk by opening too early.

"However, after having our doctors review the available science, ADA guidance, and government agencies recommendations, such as from the Centers for Disease Control and Prevention, we came up with six pages of reopening protocols," she said. "Then we had an orientation with our staff, which lasted two hours, on the plan to keep patients, parents and the dental team members safe. We invited a local pediatrician and local health department director to be a part of the meetings, review our protocols and answer questions the staff had about COVID-19."

Once she reopened, she found herself sharing her knowledge with others in her close-knit community.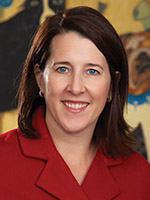 "When it was announced that local restaurants could reopen with restrictions, making a reservation at the best restaurant in my small town, The Odyssey, felt like I'd waited months for a new five-star restaurant in New York," Dr. Meeske said. "I contacted the owner and told him I would be bringing a group of doctors to eat there, thus sending the message to the public that local docs thought it was safe to dine out — albeit following social distancing rules. That precipitated him asking how we reopened and particularly how did we communicate with our staff about staying safe. I felt as though 21 years in dentistry and understanding infection control — along with being familiar with recent ADA interim guidance for COVID-19 — helped me to explain to him what were the key components in terms of communicating with his staff and customers. I told him that sharing the additional steps the restaurant was taking, while it may seem inconvenient or costly, was worth the public's trust and safety."
Dr. Meeske said her husband, an obstetrician-gynecologist, was also facing challenges during the pandemic. "He would ask me, 'What helpful information did the ADA send you today?' Turned out I was getting information from my dental associations much quicker than he was. I just feel so blessed the ADA was there sending down information very quickly and I could trust it," she said.
"Even the restaurant owner said, 'I called you because I know that as a dental practice, you guys are taking all the precautions to do it right," Dr. Meeske said. "What he was really saying is he knows we listen to the ADA, and the public has trust in their recommendations when it comes to patient safety. As a lifelong member and leader in organized dentistry, I always valued my membership. But it's times like these that the ADA has your back in every way possible."
Dr. Meeske's daughter is scheduled to go to College of Dentistry at the University of Nebraska Medical Center this fall, and is currently serving as her mother's sterilization clerk, getting a head start on learning the ins and outs of infection control. She told her mother, "Two months ago my hands were dribbling and shooting basketball. Now they are scrubbing instruments. I traded in my ankle braces for protective eyewear and a mask."
"I think this is good because it's important to send the message that life goes on and we have the responsibility of teaching the next generation of dentists," Dr. Meeske said. "My freshman year of dental school was in 1992, when the AIDS epidemic changed dental care forever. For her, it's COVID-19. Different virus, but the same steps to understanding the science, the guidelines and adapting to change."
For the latest news on the COVID-19 pandemic and resources including guidelines on reopening, visit
ADA.org/virus
.