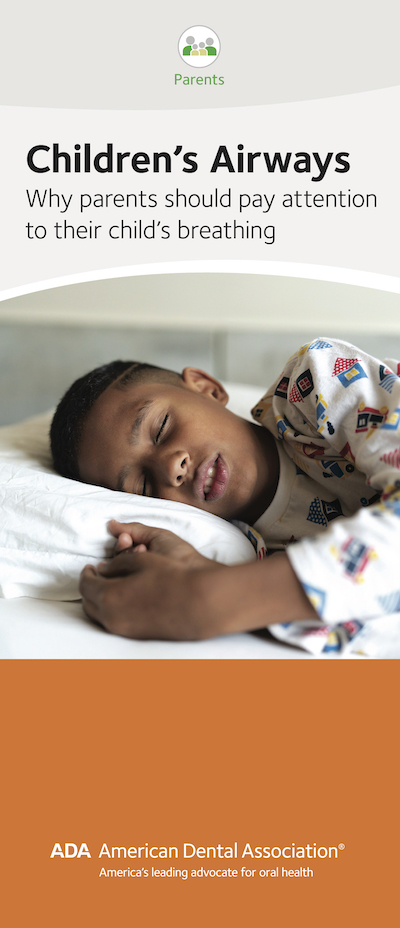 As the year 2020 comes to a close, the ADA is highlighting the importance of children's airway health with a new brochure from the ADA Catalog and a December virtual event. Both are intended to help general and pediatric dentists treat their patients and teach guardians what can be done to give children their best chance at good health for a lifetime.
Featuring 7.5 hours of continuing education credit, the virtual event,
Treating Airway as Early in Life as Possible
, is scheduled for Dec. 10-11, with the Thursday session from 7:30-9 p.m. and the Friday session from 9:30 a.m.-5 p.m. Both times are Central time.
"Two important medical themes are coming together: the realization across all of medicine that proper breathing, 24/7, is a critical foundation of health and children must be observed carefully and taught or treated as early in life as possible in order for them to grow to their maximum potential," said Steve Carstensen, D.D.S., moderator of the event and consultant to the ADA for sleep-related breathing disorders as well as the co-author of "A Clinician's Handbook of Dental Sleep Medicine."
"Dentists are unique in health care with our ability to assess for optimal breathing patterns in young children," he added.
The event features experts who have put into practice coaching for health in children and provided therapy to improve the airway, in addition to orthodontic and otolaryngology specialists sharing what they add to a team of professionals.
Courses include:
• "Breathe Well, Little One" with Susan Maples, D.D.S.
• "2021: A Face Odyssey" with Howard D. Stupak, M.D.
• "The Way a Child Breathes Influences Facial Growth and Development" with Rebecca Bockow, D.D.S.
The virtual nature of the event is a plus, Dr. Carstensen said.
"The third ADA Children's Airway CE event is available worldwide," he said. "It brings together experts focused on helping everyday dental teams recognize when children need help and providing practical ideas for early-in-life therapy and a lifetime of better health. This virtual conference includes a live Q&A with the experts, exercises to improve the experience and provide learning opportunities later, and a focus on teaching that can be implemented by every dentist right away."
Brochure addresses issue
The new ADA brochure, "
Children's Airways
," is produced in collaboration with Dr. Carstensen and Glennine Varga, a team-focused dental sleep medicine coach. They helped create the outline and edited and advised on content.
"Children's Airways" is intended to help dentists simplify information on sleep disorders for parents, as sleep disorders can be a complicated topic to discuss with patients, especially parents. The brochure can help begin a conversation about why parents should pay attention to children's breathing during sleep and highlight some behavioral signs that may point to a possible sleep disorder. Possible treatment options, including ways their dentist may be able to help, are also offered, including encouraging parents to discuss any concerns with their child's pediatrician.
Stacy Ochoa, D.D.S., a Missouri-based diplomate with the American Board of Dental Sleep Medicine, is an early advocate of the six-panel brochure, which comes in a 50-pack.
"To say I was ecstatic when I saw the new ADA 'Children's Airways' brochures is an understatement," she said. "My team and I have been screening, educating and helping our pediatric dental population for over 18 years. We are sometimes the first line of practitioners to see these children. We often see them more than their own pediatricians. If we start looking beyond the teeth, and looking at the child as a whole, we will change the trajectory of millions of children's health and lives."
To order this new brochure or other ADA Catalog products, visit
ADAcatalog.org
or call 1-800-947-4746. Readers can save 15% on all ADA Catalog products with promo code 20117 until Jan. 22, 2021.