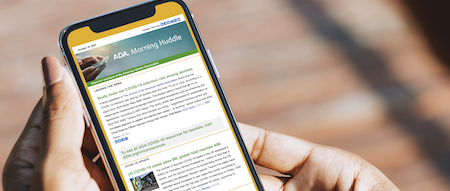 The ADA unveiled Nov. 2 a new look for ADA's Morning Huddle and the family of ADA Huddle e-newsletters.

The Huddles, while featuring a refreshed look and increased functionality, now allow readers to share their favorite stories through social media, respond to polls that take the pulse of the profession on the issues of the day and access ADA's multimedia video and audio programming.

The ADA Morning Huddle will continue to bring summaries of the latest news and information from national outlets as well as exclusive member-only content from the ADA, including breaking daily news from ADA News and highlights from The Journal of the American Dental Association, New Dentist News and Dental Practice Success.

Subscribers will continue to receive the ADA Morning Huddle Monday through Saturday mornings, and readers will still receive the latest news and resources for practice management, business and work-life balance every Saturday in the ADA Finance & Operations Huddle.

In addition, the ADA announced that the family of ADA Huddles is growing. Soon, new dentists and dental students can look forward to a Huddle geared to their unique needs, with the launch of the ADA New Dentist Weekly Huddle — a compendium of valuable professional, financial and business insights for students and early-career dentists.

The ADA Morning Huddle and the family of ADA Huddle newsletters will be delivered from the email domain @smartbrief.com.

To verify ADA Morning Huddle subscription status or share feedback, contact the ADA Member Service Center at MSC@ADA.org.