The ADA supports the utilization of dentists who choose to participate in increasing medical capacity during declared public health emergencies such as the COVID-19 pandemic, according to a resolution passed by the 2020 House of Delegates in October.

Resolution 20H-2020 states that dentists should be allowed to:
• Administer critical vaccines.
• Perform FDA-authorized diagnostic tests to screen patients for infectious diseases.
• Take patient medical histories and triage medical patients.
• Perform other ancillary medical procedures and activities, as requested by medical personnel, to expand the nation's surge capacity.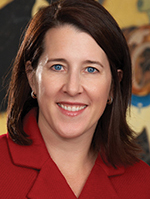 Dr. Meeske
The resolution also states that dentists be granted immunity from personal liability and restrictions on the above listed services they provide for the duration of the emergency.
The resolution backs up the concept that oral care is essential care, said Jessica Meeske, D.D.S., chair of the Council on Advocacy for Access and Prevention, which submitted the resolution.
The resolution also illustrates a critical relationship in the midst of a public health emergency, Dr. Meeske said.
"It showcases important ways in how dentists and physicians can collaborate," she said.
The council believes this particular policy is necessary to guide the Association's response when such opportunities are presented to augment the nation's medical surge capacity, she added.
When submitting the resolution, the council noted that it builds on the 2013 congressional reauthorization of the Pandemic and All-Hazards Preparedness Act, which provides the foundation for the federal preparation and response to mass casualty events, including public health emergencies. The 2013 reauthorization clarified that dentists can provide non-forensic clinical support to medical personnel during mass casualty events, when community medical resources may be overwhelmed. It further urged that dentists be included when public health and medical response plans are being developed.