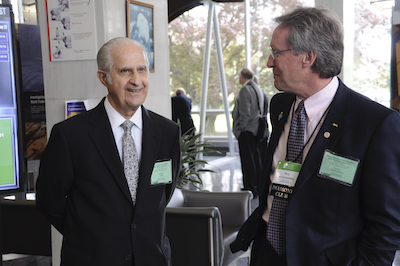 Anthony R. Volpe, D.D.S., who retired as Colgate's vice president of scientific affairs in 2013 and evaluated the clinical efficacy of the company's toothpastes during his 52-year career, died Oct. 8.

"The global dental community has lost a giant," then-ADA President Chad P. Gehani, D.D.S., said. "Dr. Volpe led a distinguished career as an educator, researcher and clinician, and his contributions have paved the way for countless patients and dental professionals. In 2014, the Volpe Research Center was dedicated in his honor, as his work laid the foundation for the innovations advancing dentistry today."

Dr. Volpe began his career at Colgate's Jersey City, New Jersey, facility in 1960, where he established Colgate's first dental clinic with a focus on evaluating the efficacy of Colgate anti-tartar toothpastes and created the Volpe-Manhold Calculus Scoring Index for evaluating anti-tartar products, according to a Colgate news release. In 1962, Dr. Volpe designed Colgate's second dental research clinic in Piscataway, New Jersey. He also led the documentation of the anticaries efficacy of Colgate's anticavity toothpaste, which included clinical research programs at international locations.

In 1985, Dr. Volpe was promoted to director of clinical investigations and was responsible for documenting the clinical efficacy of Colgate Total, the world's first multi-benefit toothpaste, according to the release.

"During his extraordinary Colgate career, [Dr. Volpe] personified our commitment to improving oral health, to developing products with scientific excellence and to establishing our leadership among dental professionals," Colgate stated in the release. "He was also deeply committed to building partnerships between Colgate and academia."

In addition to his work on tartar measurement, Dr. Volpe helped lead the development of other novel measurement procedures, as well as breakthrough clinical research on plaque and gingivitis control, according to the release. He published more than 200 papers in major international scientific journals and holds several U.S. patents in dental science.

In 2017, Dr. Volpe received the International Association for Dental Research Distinguished Scientist Award in Pharmacology/Therapeutics/Toxicology Research.

"Along with being a pioneer in preventative dental care and a champion for public health, Dr. Volpe was also regarded for his service to international organized dentistry. But what made him special was his gift for connecting with others," Dr. Gehani said. "He was a mentor and supporter to many — whether you were a student or a peer, he was only a phone call away. He was generous with his time and talents and guided many people along their journeys in practice, teaching, research and leadership. With the news of his passing, our profession remembers Dr. Volpe's enormous legacy. Personally, I remember him as a trusted colleague, a good friend and an uncle and mentor to my own children. Dr. Volpe will be sorely missed."

"Dr. Volpe was the chair of the ADA Foundation Board of Directors and a huge mentor and sponsor for many young researchers," said ADA Executive Director Kathleen T. O'Loughlin, D.M.D., who served on the Forsyth Institute Board of Directors with him. "He had a huge influence on me personally."

Dr. Volpe was preceded in death by his wife, Marlene. Those wishing to pay their respects to the family can donate to the Rutgers School of Dental Medicine funds selected by the family.