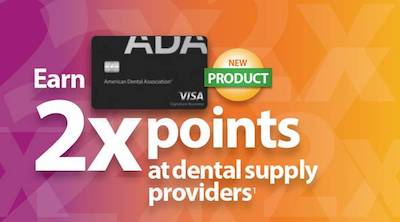 U.S. Bank is offering extra bonus points for ADA members who have the ADA Visa Signature Card, the credit endorsed by ADA Member Advantage, and stop by their virtual booth at ADA FDC Virtual Connect Conference.

Current card members will receive 2,000 bonus points for a verified visit between Oct. 15-17 as long as the account is in good standing.

Also, learn more about the new ADA Visa Business Rewards Card — a new credit card U.S. Bank created exclusively for ADA member dentists — which offers two times rewards points on dental supply providers. This includes charges at Patterson, Benco, Schein, TDSC and more. Members will also get five times rewards points for ADA purchases like the CDT 2021: Current Dental Terminology and continuing education courses.

Members will also receive five times rewards points on purchases made at the 49 state societies that co-endorse the card, including dues payments. One reward point per dollar can be earned anywhere Visa is accepted.

ADA Members that open up a new ADA Visa Business Rewards Card at the Oct. 15-17 virtual meeting will also receive limited time bonus points after their first purchase on the card, made within 90 days of opening their account. This is in addition to a bonus of up to 50,000 points earned in the first 365 days after opening their account. Every $1 of eligible net purchases will earn an additional one bonus point, up to 50,000 bonus points. Points may be redeemed for gift cards, cash back in the form of a statement credit, and travel on 150 airlines with no blackout dates, as well as hotel stays and travel packages.

The new ADA Business Rewards Card includes competitive rates and fees and complimentary employee cards are available that allow for controls on where and how much employees spend. All reward points earned on employee cards are controlled by the master account.
For ADA members who prefer a card geared towards rewarding non-business-related spending, the current ADA Preferred Rewards Visa is still available and includes a travel rewards program. For a limited time, members that successfully open an ADA Preferred Rewards Visa Signature card can receive a low introductory rate offer.

At this time, reward points are not currently combinable between the two credit card programs.

For more information on the ADA Visa Signature Card and the ADA Visa Business Rewards Card, visit the U.S. Bank booth beginning Oct. 15.