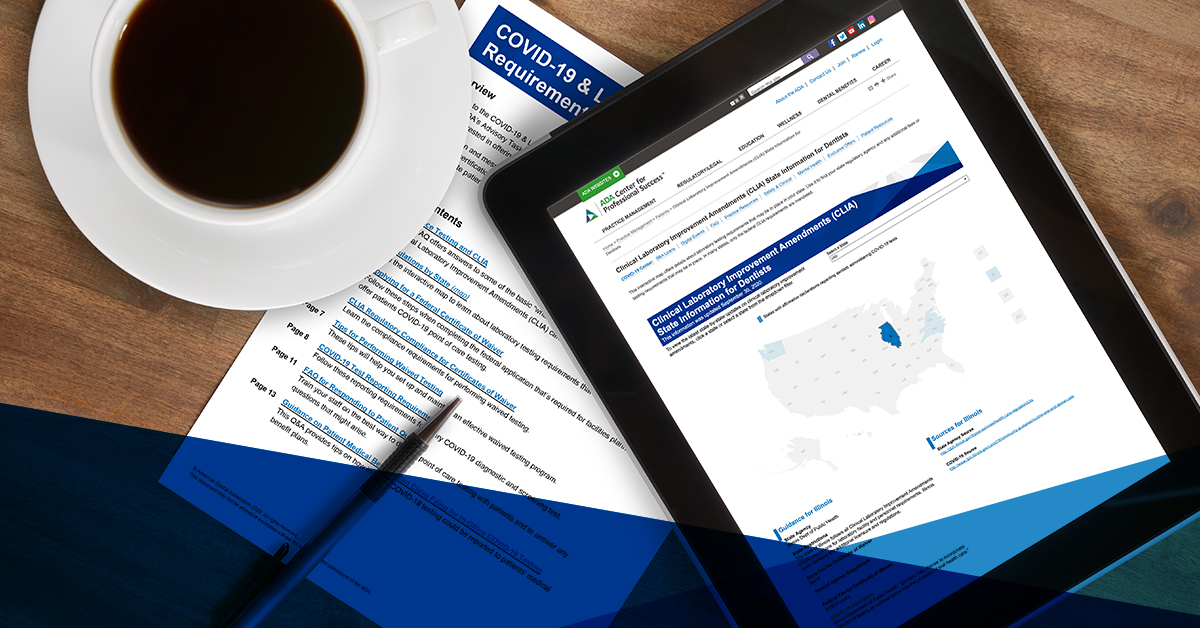 The American Dental Association, in consultation with its Advisory Task Force on Dental Practice Recovery, has released a toolkit to help guide dentists interested in offering their patients rapid response, point-of-care COVID-19 testing within their practices.
The
COVID-19 & Lab Testing Requirements Toolkit
includes information for dentists on applying for the federal certification required to offer this type of testing.
"Once again the ADA has designed a user-friendly toolkit to address the needs of the members to help them better protect themselves, their staff and patients," said Dr. Tom Paumier, task force member. "While rapid point-of-care testing is not widely used currently, as the technology and access to these important tests improve, this comprehensive document will enable members who want to do testing in their office to be sure they are compliant with all regulatory guidelines. I'm proud that the ADA has been proactive in anticipating the needs of our members and providing another invaluable resource to help dentists practice safely during the COVID-19 pandemic."
Any dental practice that performs tests on human tissue, including saliva, plaque, blood or hard or soft tissue, must comply with regulations set by the Clinical Laboratory Improvement Amendments law, according to the toolkit. The law establishes quality standards for all laboratory testing to ensure accuracy, reliability and timeliness of patient test results regardless of where the test was performed.
Some dentists have expressed interest in offering patients rapid response COVID-19 testing in their practices once reliable point-of-care testing is available at a level that makes it feasible for it to be used in individual dental practices, according to the toolkit. Two benefits of offering testing in practices are that it makes it quick and easy for patients to be tested and provides staff members with some reassurance about the health status of the patients they treat, the toolkit states.
Tests for COVID-19 have received Emergency Use Authorization from the U.S. Food and Drug Administration. Dentists who register for a CLIA certificate of waiver from the Centers for Medicare & Medicaid Services may perform tests in their practices that have been classified as "waived" tests, which are typically simple procedures and laboratory examinations that have a low risk for error.
The toolkit features an FAQ on in-office testing and CLIA requirements,
an interactive map with additional laboratory testing requirements by state
and steps to follow when applying for a federal certificate of waiver to offer patients point-of-care testing. The toolkit also includes compliance requirements, tips for developing a waived testing program in dental practices, COVID-19 test reporting requirements, an FAQ on responding to patient questions and guidance on medical benefit plan claim filing for in-office COVID-19 testing.
For additional ADA resources related to COVID-19, visit
ADA.org/virus
.