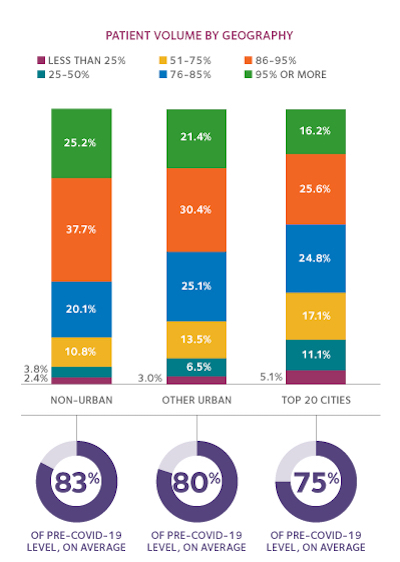 Dentists practicing in the 20 largest U.S. cities reported lower patient volume than those in rural areas or smaller urban areas, according to the ADA Health Policy Institute's latest data from a poll conducted the week of Oct. 19.

This poll result and other findings were shared in a short webinar available on YouTube. The data also covered issues related to patient volume and staffing, and the ADA partnered with Engagious, a leading consumer research firm, to explore consumer sentiment toward visiting the dentist during the pandemic.

The Oct. 19 results included data on:
• Recovery: 99% of dental offices in the U.S. were open, but fewer reported "business as usual" in terms of patient volume. Patient volume was estimated at 78% of pre-COVID-19 levels, a slight decline over previous weeks. Patient volume is, at most, very slightly correlated with COVID-19 test positivity rates. Staffing in dental offices was at 91% of pre-pandemic levels, another slight decline from previous weeks. The latest data suggest that dentists are firmly in a new normal or possibly that economic activity in dental offices might be starting to slow.
• Visiting the dentist: Among people that went to the dentist regularly pre-COVID-19, about 80% are either comfortable going or have already been to the dentist during the COVID-19 pandemic. The rest are a mix of those seeking further assurance (6%) or who simply will not return until the pandemic is under control (13%). In addition, the majority of Americans believe it is safer to visit the dentist now than it was in April.

The HPI launched a tracking poll for the initiative on March 23. Dentists were also asked to join a panel in which they complete a biweekly poll. In this latest wave, a nationally representative sample of nearly 3,000 dentists responded.

Webinars on previous data are available on the ADA YouTube channel.

Links to reports and an interactive data dashboard is available at ADA.org/HPI.