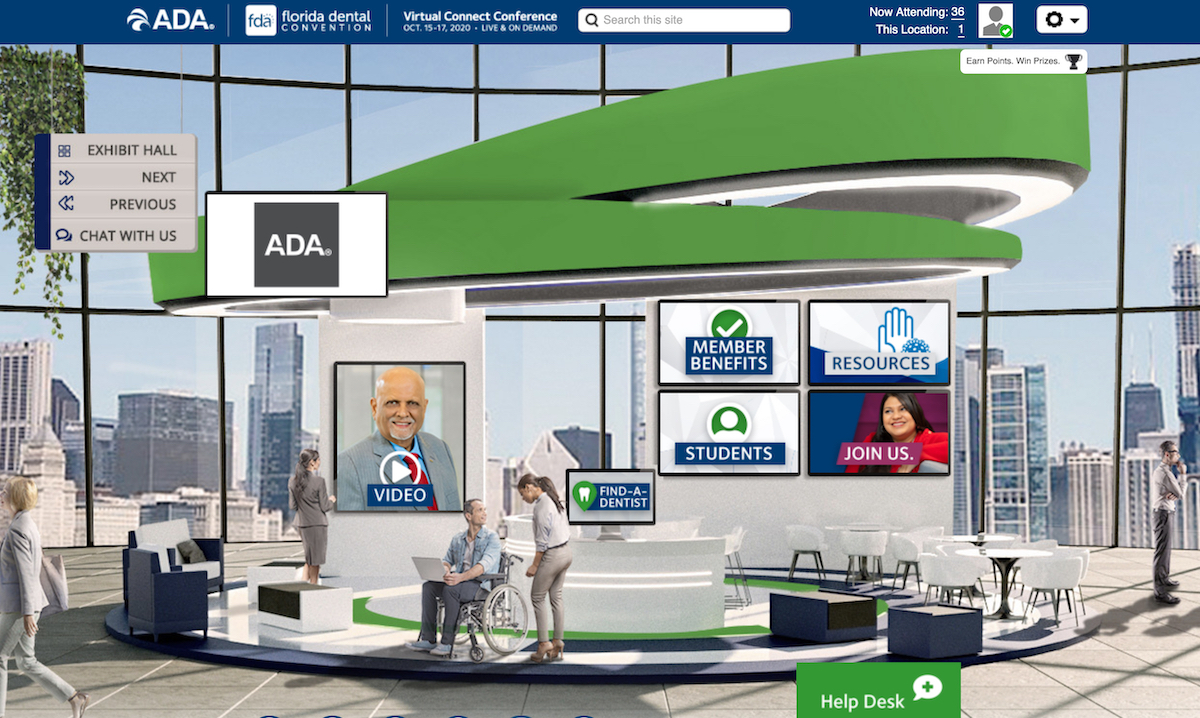 The ADA FDC Virtual Connect Conference Virtual Exhibit Hall is one-stop shopping for dentists and dental team members to learn about dental products and equipment. This year, attendees are invited to join via their own personal devices and set their own schedules.
The Exhibit Hall opens Oct. 15 and exhibits will be available 24/7. There will also be dedicated exhibit hours each day of the virtual, three-day conference, allowing attendees to interact one-on-one with exhibitors. They can also set up times to chat with vendors when it's more convenient.

A Product Showcase with Dr. Paul Feuerstein as Your Guide, scheduled for 2-4 p.m. CDT Oct. 16, will take attendees on a virtual tour of a few Exhibit Hall booths with Dr. Feuerstein, technology editor of Dentistry Today, to learn about new products and services that could be helpful in their dental practices. Participating companies include EdgeDental Specialties, Lighthouse360, ABELDent, Shatkin F.I.R.S.T., DENTULU, Simplifeye, Mouthwatch and Weave.

Dedicated Virtual Exhibit Hall hours have minimal overlap with continuing education course times. Hours are as follows, all times Central:

Oct. 15
4-5:30 p.m.

Oct. 16
Noon-2 p.m., 4-5:30 p.m.

Oct. 17
Noon-2 p.m., 4-5:30 p.m.

Featured booths from the ADA and Florida Dental Association include:

• ADA 2021 Booth. Visit the booth Oct. 16-17 and learn about all the new changes happening with the 2021 annual meeting Oct. 11-14, 2021, in Las Vegas. Attendees can enter to win roundtrip airfare, hotel accommodations and registration to the 2021 meeting and other prizes.

• Florida Dental Convention. Stop by and learn all you need to know about the 2021 convention scheduled for June 24-26 in Orlando. Visitors can make their hotel reservations at the Gaylord Palms Resort & Convention Center to be entered to win a $100 Visa gift card.

• ADA Member and Client Services. Visit the ADA Member Center to learn more about member benefits, COVID-19 resources, or to chat with ADA staff who can help answer your questions.

• ADA Catalog. Order essential resources for your practice like the CDT 2021 and Coding Companion Kit with CDT 2021 App or brochures such as Periodontal Disease: Don't Wait Until It Hurts and Children's Airways. Browse new and revised products, chat with ADA Catalog representatives and request a virtual swag bag. Attendees who order in the booth will receive 15% off and free shipping to U.S. addresses.

• ADA Accelerator. This booth will offer leadership and work/life balance tools, plus a live, 30-minute financial check-up Q&A with Key Bank on Oct. 16 at noon Central to help attendees tackle current challenges and still achieve their long-term goals.

• New Dentist Committee. New Dentist Committee members and ADA staff will be on hand to discuss ADA resources and share what the New Dentist Committee is all about. Students and new dentists are encouraged to share their story to win a $30 gift card.

• ADA Health Policy Institute. HPI staff will share the latest information regarding COVID-19's impact on the dental economy. Attendees can get the latest results from HPI's ongoing economic poll to find out how the pandemic is impacting them, and also learn more about how patients feel about going to the dentist during this time. HPI Consulting will also have information available regarding its services and most recent reports.

• ADA Business Enterprises Inc. Stop by the ADA Member Advantage endorsement program booth to pick up a "prize passport." Then, visit five endorsed product booths where visitors will receive a secret password from each by chatting with a representative to complete their passport and submit it to receive a prize in the mail and be entered into a daily drawing for a $200 Amazon gift card.

• FDA Member Center. The Florida Dental Association is inviting out-of-state ADA tripartite members to stop by this booth to become a dual ADA member of the FDA, so they can take advantage of Florida member benefits such as free pre-registration for the Florida Dental Convention, FDC2021, which will take place June 24-26, 2021, in Orlando.

• FDA Services/The Doctors Company. This booth will share what Florida Dental Services can provide for dentists and will also provide visitors who stop by with an instant malpractice quote. All dentists and dental students who complete the booth survey will have a chance to win a $250 Amazon credit.

• ADA Science & Research Institute, LLC. This booth will announce who won this year's Evidence-Based Dentistry Awards supported by Colgate and will also host interactive games where attendees can test their clinical knowledge and earn continuing education credit.

• ADA Seal of Acceptance. This booth will feature a free chairside guide listing all products that have earned the ADA's trusted symbol of safety and efficacy as well as ADA Seal representatives who can answer questions and help attendees feel comfortable when recommending products to their patients.

• ADA Store. Are you looking for coding, staff training, clinical and patient education resources from the ADA? Stop by the ADA Store in the Virtual Connect Conference lobby to browse, demo and order all the resources you need to safely treat your patients, successfully run your practice and train your team — all at discounted rates. ADA representatives will answer all of your resource questions.

• ADA Action for Dental Health Initiatives. For this booth, ADA Council on Advocacy for Access and Prevention staff will be providing Community Concierge Service for members interested in learning more about the ADA's Action for Dental Health initiatives as well as opportunities to avoid the "COVID Crunch" of decreased patient appointments through community-based care strategies.

To learn more about the Virtual Exhibit Hall or to register for the conference, visit ADA.org/meeting.