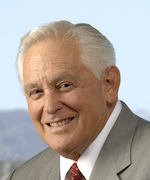 Palo Alto, Calif. — Dr. Arthur A. Dugoni, who led the University of the Pacific's school of dentistry for 28 years as dean and was ADA president from 1988-89, died Sept. 23 at his home in Palo Alto, California, from cancer. He was 95.

The University of Pacific's dental school was named the Arthur A. Dugoni School of Dentistry in his honor in 2004. He became the first and only person in the United States or Canada to have a dental school named in their honor while holding the position of dean, according to a memoriam on the university's website.

Along with his ADA presidency, Dr. Dugoni was ADA treasurer from 1987-88 and a trustee from 1984-87. He was also the recipient of the ADA's Distinguished Service Award.

Dr. Dugoni also served as president of the California Dental Association, the American Dental Education Association and the American Board of Orthodontics.

Dr. Nader A. Nadershahi, dean of the Arthur A. Dugoni School of Dentistry, told the ADA News, "Dr. Arthur A. Dugoni understood the importance of collaboration and organized dentistry to improve the health of our communities and the future of our great profession. He inspired so many through his dedication, passion and personal example of leadership. His service left each organization better than when he left them. His impact on the University of the Pacific Arthur A. Dugoni School of Dentistry will ripple through generations with so many of our graduates touched by the commitment to excellence and the humanistic educational model."

"Art Dugoni was one of the most important leaders in the 169-year history of California's first university," said University of the Pacific President Christopher Callahan, in the memoriam. "He not only transformed the Arthur A. Dugoni School of Dentistry, but the discipline of dental education. Art will be deeply missed, but his legacy will live on through the thousands of alumni, faculty, students, staff, supporters and friends at the school that bears his name."

"Art led a purposeful life and his legacy lives in the people he educated and the lives he touched," said President Emeritus Don DeRosa, Ph.D., in the memoriam. "He so wonderfully exemplified Pacific's mission of preparing individuals for lasting achievement and responsible leadership in their careers and communities."

Dr. Dugoni served as dean of the dental school from 1978 to 2006. His prior roles at the school included assistant professor of operative dentistry; assistant professor of pediatric dentistry; assistant professor of orthodontics; chairman of the department of orthodontics; associate professor of orthodontics; and professor of orthodontics.

The memoriam published his oft-quoted mantra: "At Pacific we grow people, and along the way they become doctors."

Dr. Dugoni was preceded in death by his wife of 66 years, Katherine. He leaves behind his companion of recent years, Cathie Perga, and seven children. He is also survived by 15 grandchildren, as well as nine great-grandchildren.

His granddaughter Christine Dugoni Hoffman wrote to the ADA News about Dr. Dugoni.

"He lived an incredible life of passion and excellence in all things," she wrote. "He taught us, when you love something, pour your heart and soul into it. Grandpa Art was a giant in the dental industry — when we were little, my brother Brian used to call him the king of the dentists, when he was president of the American Dental Association. But it wasn't just his passion for oral health care that made him remarkable, it was his incredible connection to people that truly made him one in a million. Rest in peace Grampy Art, I love you. Have fun dancing with Grandma Kaye."

His grandson Paul Dugoni also told the ADA News about his grandfather.

"He empowered everyone around him to seek lasting achievement and responsible leadership in their careers and communities," Mr. Dugoni said. "He left behind an amazing legacy and will never be forgotten. He lives through everyone who knew him and serves as an exemplar in all of our lives."

Dr. Kathryn Kell, former ADA trustee and past president of the FDI World Dental Federation, commended Dr. Dugoni's service for that international organization.

"Dr. Dugoni was a fantastic treasurer for the FDI World Dental Federation," Dr. Kell said. "When he became treasurer, the FDI had financial issues, and Dr. Dugoni was able to restore the reserves to an amount that steered the federation for the future. It was the hope that he would want to run for FDI president, but he had other goals, so it was not to be. It is with great sadness that FDI has heard of his death and we extend our sympathy to all his family and friends at the ADA and his many friends and colleagues around the world."
Dr. Gerhard K. Seeberger, FDI president, shared Dr. Kell's sentiment.

"Some stars go out, and others shine forever," he said. "His contributions to the dental profession and his constant engagement for future dental practice and practitioners will always be a treasure in our hearts. We all in the FDI are very sad for his loss, but grateful he came into our lives."

Memorial gifts may be made to the Art Dugoni Scholar Fund, an endowment that will support a Dugoni dental student. Visit the fund's site or call the dental school's office of development at 1-415-929-6406.