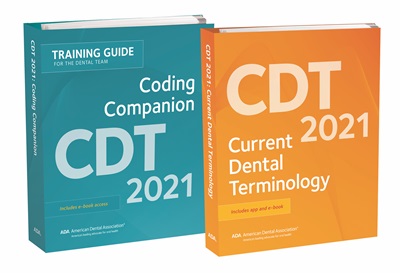 The Fall 2020 ADA Catalog, which arrives in members' mailboxes this month, features five new and revised clinical and practice management resources and more than 20 new and revised patient education brochure topics.

New and revised products include:
• CDT 2021: Current Dental Terminology and CDT 2021 Coding Companion, plus the new CDT 2021 App. Code changes for 2021 include 28 additions, seven revisions and four deletions.
• Dental Communication: Letters, Templates and Forms (formerly called Dental Letters), fully revised and updated to reflect the situations dental practices may encounter during closures for large-scale catastrophes such as global pandemics.
• Managing Pregnancy: Best Practices and Policies for Pregnant Dentists and Pregnant Dental Team Members.
• Periodontal Disease: Don't Wait Until it Hurts booklet, revised and also available in Spanish.
• Children's Airways brochure.
• Your Smile: An Owner's Manual booklet.
• Oral Health and the HPV Vaccine brochure.
• Root Canal Therapy brochure, also available in Spanish.
• Your Child's Teeth from Birth to Age 6 brochure.

To see sample pages and tables of contents, visit ADAcatalog.org.

To order products, email or call the ADA Member Service Center at msc@ADA.org or 1-800-947-4746. An order form is also included at the end of the catalog.

Readers can save 15% on all ADA Catalog products with promo code 20115 until Nov. 27.