Dr. Alex Barrera, a general dentist at
Avenue 360 Health & Wellness
, a Federally Qualified Health Center in Houston, said FQHCs are vital as the country tries to move forward in the midst of the COVID-19 pandemic.
"I believe that public health institutions will become more important as we move forward," he said. "We are finding more and more gaps in our health care systems, and the reality is that COVID-19 would not be doing this amount of harm if our populations were healthier. This means that we need to focus more on how we can help our more vulnerable and underserved communities so that our nation as a whole can be better off."
Dr. Barrera's belief in seeking better outcomes for not just oral health, but overall health, is reflected in a new
research paper
that says FQHCs can aptly respond to challenges presented by the COVID-19 outbreak through what is known as value-based care.
Authored by the Boston-based nonprofit
DentaQuest Partnership for Oral Health Advancement
and the
National Association of Community Health Centers
, the paper marks the first time that the latter association has endorsed value-based care for oral health across its more than 1,400 FQHCs nationwide.
Value-based care
Dr. Sean Boynes, vice president of health improvement for the DentaQuest Partnership for Oral Health Advancement and senior author of the paper, said that value-based care represents a national model for others seeking to implement preventive oral health care, teledentistry and integrated, interprofessional treatment as a way to improve the overall health of some of the most vulnerable populations.
"It's a philosophy change," he said.
Value-based care, Dr. Boynes explained, is designed to align the system of care, the person, the provider and the community to achieve better health outcomes at lower costs. Prongs of that sea change in thinking include prevention-focused, minimally invasive, person-centered and risk-based treatment to ensure an equitable distribution of resources.
In a value-based payment environment, Dr. Boynes said, providers are paid to care for a population with incentives for demonstrating value by preventing dental disease and keeping patients healthy, rather than relying on a payment model that prioritizes volume of services provided.
Donald L. Weaver, M.D., senior advisor of clinical workforce for the National Association of Community Health Centers, said the white paper reinforces the essential role oral health plays in overall health.
"Many of the lessons learned from providing dental care during the pandemic, including the expanded use of teledentistry and care teams, can be used to frame the future," Dr. Weaver said. "With increasing interest in paying for value, now is the time to assure dental care is included in the conversations and demonstrations."
HPI research shows new normal
The research paper, Oral Health Value-Based Care: The Federally Qualified Health Center Story, released Aug. 31, echoes evidence separately collected this summer by the ADA's
Health Policy Institute
.
The HPI data shows (illustrated in
July 28
and
Sept. 1
ADA webinars) that many dentists in public health were taking on new or additional responsibilities in their work settings, such as administering coronavirus testing and establishing new community partnerships and interprofessional referral networks to ensure patients were able to get the care they needed.
The concepts of value-based care and holistic care are intertwined, Dr. Boynes said. One of the more interesting data findings during the year-long research process, he said, was that for every 1% increase in patients receiving dental services at a FQHC, the proportion of diabetes patients with uncontrolled diabetes declined by 0.2%. That statistic shows how dentists are not siloed, but working hand-in-hand with other health care providers in achieving better patient outcomes, he said.
"Health centers recognize that it takes a highly specialized team to manage the many components of a fast-moving, patient-focused environment," said Dr. Bob Russell, senior consultant with the DentaQuest Partnership for Oral Health Advancement and contributing author of the research paper.
The authors of the paper acknowledged that FQHCs are experiencing financial hardships. For example, while FQHCs have experienced surges in COVID-19-related visits, declines in primary care and preventive treatment have resulted in 34 million fewer visits per week. Revenue has declined by a collective $3 billion, and more than 100,000 jobs have been furloughed during the pandemic, the authors reported.
The HPI also found that there was a significant drop in patient volume due to the pandemic across all settings. At of the end of July, maximum patient capacity was at 50% of its pre-COVID-19 levels in public health settings, yet had dropped by only one-third in private practice, the HPI noted. The pandemic could ultimately lead to potential reductions in dental safety net capacity.
The research paper argues, though, that value-based payment models may improve the financial viability and long-term sustainability of health centers.
"Health center dental programs took a wallop due to COVID-19, but there are many advantages in the FQHC model of dental delivery that enable resilience and adaptability to endure the changes ahead," said Dr. Russell.
Moving ahead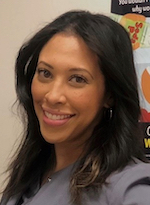 Dentists who work at FQHCs are receptive to the idea of a value-based care model.

Dr. Tanya Sue Maestas is a general dentist at La Clinica de Familia, an FQHC in Chaparral, New Mexico.

"By implementing recommended changes and reassuring our patients, we can continue to provide high-quality care to those we serve," Dr. Maestas said. "It is very common to see FQHCs provide care for a patient's overall health including medical services, behavioral health, dental care and even provide opportunities to reach patients in the community. With prevention at the forefront, collaboration between the various disciplines can provide a holistic approach in providing care to the patients we treat. Remaining open and accessible to [our] communities cannot only help mitigate emergencies that may occur, but also keep our priority of prevention at the forefront."

Dr. Elizabeth Simpson, a general dentist with Meridian Health Services in Indiana, said FQHCs are the precise places to focus on value-based care and whole-person health.

"FQHCs are federally qualified health centers and therefore must serve as that: health centers," she said. "We aren't esthetic centers, we aren't the place where someone can go for whitening. We are the place that people who have few to no options for affordable treatment can go to have their oral health and physical health restored."

For Dr. Barrera, he said COVID-19 has changed and will continue to change the way health care is delivered at FQHCs.

FQHCS are well-positioned to follow a value-based care model, he said.

"I've learned that those populations that were already vulnerable due to physical health, mental health and/or socioeconomic status are being affected the most," Dr. Barrera said. "It is up to us to check in on the health and wellness of our patients, including mental health. Now's our chance to provide the compassion and care that we were taught to do."