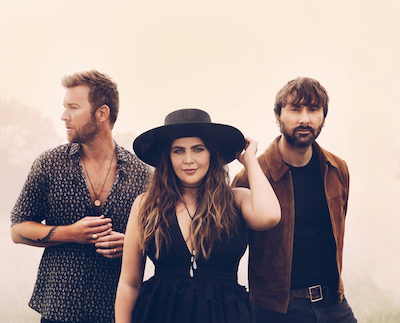 Country music group Lady A, formerly known as Lady Antebellum, will perform Oct. 15 and kick off the ADA FDC Virtual Connect Conference.

"We're so excited to have a musical act of this caliber join us for an unprecedented meeting," said Dr. Melanie Love, ADA FDC work group member. "We really think it will be a special performance for attendees, tying in with our theme of bringing the dental community together while we're apart, and uplifting them during a time of uncertainty."

Known for the nine-time-platinum hit "Need You Now," Lady A has earned Academy of Country Music and Country Music Association Vocal Group of the Year trophies three years in a row, five Grammy Awards and numerous other honors, including Billboard Music Awards, People's Choice Awards, Teen Choice Awards and a Tony Award nod. Band member Dave Haywood is the son of ADA member Dr. Van Haywood.

The virtual concert, which is sponsored by Laurel Road and KeyBank, is scheduled for 6:15 p.m. CDT, immediately following the opening session. The virtual conference runs from Oct. 15-17.

"On behalf of everyone at Laurel Road and KeyBank, we are thrilled to be the lead sponsor of this event this year," said Paul Bamundo, senior vice president and head of marketing partnerships for Laurel Road. "With our commitment to health care professionals overall, and a particular focus on dentists, Laurel Road is proud to support the ADA in their efforts to help members practice dentistry during these unprecedented times."

Evening panel sessions during the conference will center around key issues in dentistry today.

The opening session, COVID-19 and Beyond: Leading a Profession Through Uncharted Territory (EV01), scheduled for 5:30-6:15 p.m. CDT Oct. 15, will discuss how the COVID-19 pandemic has impacted dentists and the profession has bounced back.

The panel, consisting of Dr. Mia Geisinger, chair of the American Dental Association Council on Scientific Affairs, and Casey Hannan, director of the Centers for Disease Control and Prevention Division of Oral Health, will highlight the role of the ADA in developing guidance for the safe delivery of dental care and reflect on what the future holds for dentists. Dr. Marcelo Araujo, Ph.D., ADA Science & Research Institute CEO, ADA chief science officer and ADA Foundation CEO, will moderate the panel. The session is sponsored by Laurel Road.

The Essentialism of Oral Health: How Dentistry Fits in to an Evolving Healthcare Landscape (EV03), a live evening session scheduled for 5:30-6 p.m. CDT Oct. 16, will address how the ADA is proactively approaching the issue of dentistry as essential health care in state and federal health policy. The ADA Board of Trustees adopted an ad interim policy July 27 stating dentistry is essential health care to help guide advocacy for the dental profession during the COVID-19 pandemic and beyond.

Moderated by Marko Vujicic, Ph.D., chief economist and vice president of the ADA Health Policy Institute, the panel session will feature Dr. Lisa Simon, M.D., a researcher at the Harvard School of Dental Medicine and resident physician in internal medicine at Brigham and Women's Hospital, and Dr. Jessica Stilley-Mallah, member of the ADA Council on Dental Benefit Programs. The session is sponsored by EdgeEndo.

The closing session, The Third Party Payer Landscape: How the ADA is Working for Dentists and the Public (EV07), scheduled for 5:30-6 p.m. CDT Oct. 17, will present new data on recent trends in dental benefits reimbursement and discuss what the ADA is doing to ensure third-party payer programs, both in the public and private sectors, are designed in a way that advances the oral health of the public.

The moderator will be Mike Graham, senior vice president of the ADA Division of Government and Public Affairs, and panelists include Dr. Krishna Aravamudhan, senior director of the ADA Practice Institute Center for Dental Benefits, Coding and Quality; Chad Olson, director of the ADA Department of State Government Affairs; and Dr. Sara Stuefen, member of the ADA Council on Dental Benefit Programs and ADA New Dentist Committee.

For more information on the virtual conference, including how to register, visit ADA.org/meeting.