Lake Charles, La. — Drs. Daniel and Stephanie Weaver have lived in Louisiana all their lives, and have weathered many hurricanes over the years.
But they never experienced the devastation unleashed by Hurricane Laura.

Hurricane Laura tore through southwestern Louisiana and the region in late August and has been called the strongest hurricane on record to make landfall in the Pelican State, causing at least 27 deaths in the state.
"Until this point, Hurricane Rita [in 2005] was the worst that we have experienced," Dr. Daniel Weaver said from his home that had power through a generator. "Hurricane Laura was worse. There is definitely more damage. We were hit by the eastern eyewall, which is the worst possible case scenario. It's really bad when you are hoping that the eye of the hurricane hits you. When the eye hits you, you get eyewall, an hour-long break, then eyewall again. We didn't get the break in the middle. We got nothing but eyewall for a couple of hours."
The Weavers evacuated east right before the hurricane hit their southwestern Louisiana city of Lake Charles to New Orleans, to escape the brunt of the hurricane with their son and daughter in tow.
"We watched the coverage all night long," Dr. Weaver said. Then they returned to survey their home, practice and area early the next day.

"Easily more than half the city needs new roofs," Dr. Weaver said. "Ours is probably a typical story. Modest damage to our home. Mainly to the pool house, fencing and trees. Damage to the office was worse. The roof had several penetration points and took water through the roof and windows. We will be out of the office for a month or two."

Dr. Weaver estimated the cost of reconstruction of the house to be more than $250,000, and the office upwards of $1 million.

Dr. Weaver, like his wife a past president of the Louisiana Dental Association, said the disaster and accompanying recovery has brought out the best of people in a trying 2020.

"Lately it's hard to watch the news," he said. "I'm a military guy, and I love this country, but the state of our society is very disheartening to me. Sometimes it takes a tragedy like this to remind you of the inherent good in people. Seeing friends, neighbors and family come together to help one another is a reminder of the good that's still there."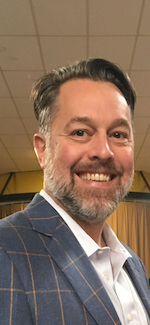 Dr. Daniel Weaver
He added: "The mood of the people here is one of resilience. It's a hard-working community and everyone is working together to rebuild our city. You will be amazed at how well and how quickly we recover."
Dr. Stephanie Weaver, who serves as a member of the ADA Council on Communications, echoed her husband's sentiment.

"Disaster reveals the generosity of not only our friends and family, but of complete strangers," she said. "We have been overwhelmed by support from nearby states and learned that no one works harder than a lineman. We are grateful."

The Louisiana Dental Association Foundation has set up a grant program in the wake of the disaster.

The grants are available during a state declaration of emergency when a dentist who has had home and/or practice damage needs help. These funds come straight out of the LDA Foundation and are only available as long as the foundation has contributions. To make a contribution to the LDA Foundation, call the LDA office at 1-800-388-6642 or 1-225-926-1986; write a check to the LDA Foundation and mail it to 5637 Bankers Ave., Baton Rouge, LA 70808; or donate through PayPal.

Dr. Trey Carlton, Louisiana Dental Association president, weighed in on the tragedy.

"As many of you know, Hurricane Laura was one of the strongest hurricanes on record to make landfall in Louisiana," he said. "It was not only damaging to homes and businesses, but also cost lives. Louisiana residents are not new to hurricane devastation and the rebuilding that follows. Time and time again, our members prove their strength and resilience by helping one another personally and professionally. As essential health care providers, our members are working diligently to reopen quickly to serve their patients who so desperately need them. The LDA will be supporting these efforts and will no doubt work tirelessly to assist those members who have been impacted. As always, the LDA is here to continue to promote, advocate and protect the dental professionals of this great state."