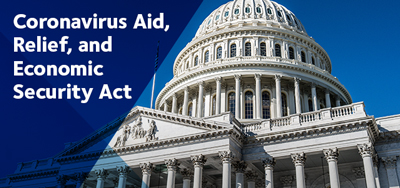 Dentists with federal student loans won't need to make payments for six months as part of an effort by the federal government to provide relief to people devastated by the COVID-19 pandemic.
The temporary relief for federal student loan borrowers was among the provisions in the Coronavirus Aid, Relief and Economic Security Act — or CARES ACT — which was signed into law by President Donald Trump on March 27.
However, dentists with private loans will have to contact their respective lender as the U.S. Department of Education does not have legal authority over private student loans and are not covered by the CARES Act.
The law contains several provisions that affect dentists participating in the Federal Direct Student Loan program. These include:
• Dentists with outstanding federal student loans would be relieved from making payment from March 13 through Sept. 30, and interest would not accrue during that time. The payment suspension applies only to loans held by the Department of Education, rather than a private bank or other financial institution.
• Employee dentists will not have to pay taxes on employer-provided student loan repayment benefits (up to $5,250).
• Dental students who officially withdraw from school because of a coronavirus event can have all or part of their federal student loan canceled.
In addition, dentists may still choose to make payments, which would fully go toward the principal of the loan.
The provisions were among aspects in the new law that the ADA advocated for during discussions in Congress as important to dentists.
According to the American Dental Education Association, the average debt per dental school graduate in 2019 was $292,159, up from $55,000 in 1990. In addition, 64% of graduates report having over $200,000 in debt.
The
Federal Student Aid
updated its website April 2 to provide additional details on the 0% interest period, forbearance, defaulted loans and general loan questions. The U.S. Department of Education's Office of Federal Student Aid has published an extensive FAQ addressing student loans, including answered questions that cover several new provisions from the Coronavirus Aid, Relief and Economic Security Act.
The Association also encourage dentists to call FedLoan for the latest information at 1-800-4-FED-AID.
Laurel Road, endorsed by the ADA for student loan refinancing, advises that customers experiencing an impact to their income as a result of COVID-19, may be eligible to receive three months forbearance. This is in addition to their standard 12 months forbearance. To inquire about forbearance and hardship relief due to COVID-19, contact Laurel Road's loan servicing partner, MOHELA, at 1-877-292-6845.