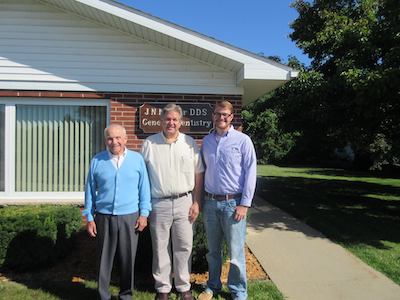 Editor's note: Dr. Gabriel Benedict Holdwick, of Harbor Beach, Michigan, is among the recipients of this year's 10 Under 10 awards, which recognizes new dentist who demonstrate excellence early in their career. Dr. Holdwick has served at the local, state and national level of organized dentistry, while continuing his leadership involvement with the American Student Dental Association, and is the recipient of the Michigan Dental Association's New Dentist Leadership Award. Dr. Holdwick is also active in his community, volunteering with the Grice House Heritage Association and the Harbor Beach Rotary Club.

Editor's note: The American Dental Association is seeking nominations through Dec. 31 to recognize 10 new dentists in 2021. Honorees will receive a $1,000 gift card and be recognized in various ADA publications and channels. For more information or to nominate a new dentist, visit ADA.org/10under10.
One thing that Dr. Gabriel Holdwick wants his patients to know about him is that he tries his best every single day. And when he shows up, he's showing up for them.
"I strive every day to try and learn new things, and improve my skills, techniques, and processes just so that we can continue to provide the best care possible," he said. "Because that's what they deserve."
When maintaining that dedication, it helps that his patients are the same neighbors and friends he had grown up in the rural area of Harbor Beach, Michigan, located about 150 miles from Detroit.
"Sometimes, places like Harbor Beach can experience a little bit of a brain drain, just because it's not that close to any Metropolitan centers," he said. "So having somebody that is not only local but has lived and continues to live in Harbor Beach is valued by a lot of my patients. When there's someone in need and the greatest gift you can give them is that you're there in a position to help them when they need it."
Dr. Holdwick ventured into the profession after completing an internship at a local dental office. In 2014, after graduating from the University of Detroit's Mercy School of Dentistry, Dr. Holdwick became the first person in his family to go into dentistry.
Following his graduation, he moved back home and purchased a dental office from a retiring dentist.
There, he manages a team of four and provides a wide array of general dentistry services, which include implants, extractions, crowns and bridges, traditional restoratives and family dentistry.
"The transition from a retiring doctor to somebody who's brand new, naturally made things busier," he said. "I wanted to work. I needed to work more."
Dr. Holdwick said he hired an additional staff member, and brought a little bit of a culture change for the staff and patients.
"I think in the whole grand scheme of the five years, my arrival was probably a big change for the practice," he said. "I did things a little differently. I'm a different person, and do a few different procedures."
In addition, Dr. Holdwich has expanded his influence in his community through volunteer work in local organizations, including the Harbor Beach Rotary Club and Grice House Heritage Association.
"I didn't know what the organized industry piece was going to look like, but was exposed to it a little while in high school, through the harbor beaches and agricultural community," he said. These in addition to staying active in the local, state and national level of organized dentistry.
"I enjoy working with my community," he said. "I really like my job, the patients, and the people that I work with. I hope that as I progress, I always continue to get better, and just try to be the best person that I can be, and that includes being a dentist."