Dentistry, one of the world's oldest medical professions with a history dating all the way back to 5000 B.C., wasn't modernized until the 1700s. Throughout this period of modernization, African Americans experienced great difficulty in seeking dental care, and finding dentists of color proved to be even more difficult.
It wouldn't be until the 1800s when three dental pioneers — a former seamstress and two sons of former slaves — paved the way, setting groundbreaking strides in the field for Black Americans. Those three individuals were Drs. Robert Tanner Freeman, George F. Grant and Ida Gray Nelson Rollins.
Dr. Freeman, Washington, D.C., native and son of former slaves, developed an interest in dentistry after working for mentor Dr. Henry Bliss Noble. After being rejected from two dental schools because of the color of his skin, Dr. Freeman went on to enroll at Harvard University's dental school as part of its inaugural class. He graduated in 1869, becoming the nation's first African American dentist. Upon graduation, Dr. Freeman opened his own practice in his hometown of Washington, D.C., until his death four years later in 1873.
Like Dr. Freeman, Dr. Grant also was the son of former slaves. He entered and graduated from Harvard University's dental school in 1870 and not only went on to become the first African American faculty member of Harvard, working in its department of mechanical dentistry, but also made several contributions to cleft palette procedures. Aside from dentistry and instructing, Dr. Grant also invented the wooden golf tee.
Dr. Rollins became the first African American female dentist in 1890. A former seamstress, she later began working under Dr. Jonathan Taft for three years. After enrolling in the University of Michigan School of Dentistry in 1887, Dr. Rollins graduated in 1890. She then relocated to Cincinnati, becoming the first African American woman to own a dental practice there. In 1895, after marrying James Sanford Nelson, Dr. Rollins relocated to Chicago and opened a dental practice there, again becoming the first African American woman to do so.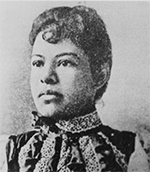 In the years since Drs. Freeman's, Grant's and Rollins' pioneering efforts in the dental field, African Americans have not only continued carrying the torch that was lit by the ones who have come before them but also found ways to expand their reach in other areas. There is Dr. Robert F. Boyd, physician, dentist and first president of the National Medical Association. Dr. C.O. Simpkins, dentist, civil rights activist, politician and one of the founders of the Southern Christian Leadership Conference. Dr. George Simkins Jr., dentist, community leader and civil rights activist. Dr. Annie Elizabeth Delany, civil rights pioneer and second black woman to become a licensed dentist in New York. And Dr. Robert Lee, an American dentist who later relocated to Ghana to become an elder statesman and unofficial ambassador to African Americans traveling to Ghana.

Throughout the evolution of dental practices over the years, African Americans have found a way to use their platform to continue breaking barriers, effecting change and leading the charge for equality in the field of dentistry and beyond.