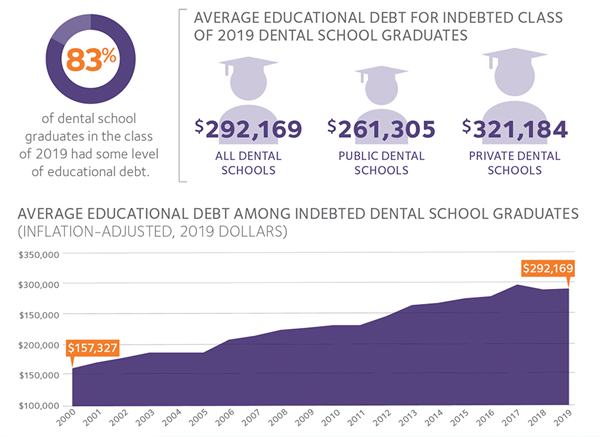 Sources: American Dental Education Association. Survey of Dental School Seniors. Average educational debt among indebted dental school graduates was adjusted for inflation by the ADA's Health Policy Institute using the U.S. Bureau of Labor and Statistics' Consumer Price Index. Note: Educational debt is the sum of undergraduate debt and dental school debt of only those respondents who have debt.
Among the class of 2019, five out of six dental school graduates (83%) reported having educational debt.
Average educational debt among dental school graduates has grown from $157,327 to $292,169 (adjusted for inflation) from 2000 to 2019, for those graduates who had debt. The average annual increase in inflation-adjusted debt was 3.3% over this period.
In 2019, the average debt of graduates from private dental schools was 23% higher than that of graduates from public dental schools. The private school debt averaged $321,184 while the public school debt averaged $261,305.
Learn more at
ADA.org/HPI
.