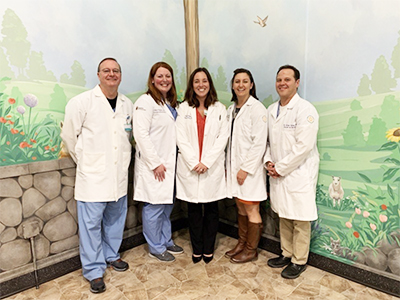 Emergency departments in most hospitals across the country, generally, are unable to provide appropriate dental care to patients.

Without proper instrumentation, facilities and trained professionals, many emergency departments often treat patients' symptoms with inappropriate antibiotic prescriptions, unnecessary computed tomographic imaging and opioid pain medication.

Emergency departments work to address the symptoms and provide short term relief, but ignore the actual cause of the patient's dental condition. Many patients, for their part, have limited access to dental treatment due to a variety issues such as to socioeconomic status, education and limited access to care; an emergency room visit may be their only option. Many patients return to emergency departments multiple times for the same problem, without a solution. This cycle leads to high costs for patients, insurance companies and taxpayers. Use of the Emergency Department (ED) for non-traumatic dental visits is one contributor to rising health care costs and lack of appropriate dental care for many Americans.

According to the American Dental Association's Health Policy Institute, the average cost for a Medicaid patient to visit the emergency room for a dental visit is about $700 for one visit.

The Samuel's Sinclair Dental Center at Rhode Island Hospital and Hasbro Children's Hospital in Providence, Rhode Island, has recognized the dental needs of children and special needs adults in the region since 1931.

The hospital has had emergency department triage guidelines in place for decades. Rhode Island Hospital is a Level 1 Trauma Center and has constant coverage by oral and maxillofacial surgeon. The sheer volume of patients that are transferred via ambulance to the hospital from Rhode Island and nearby Massachusetts border is high. There are over a dozen hospitals in Rhode Island, Connecticut and nearby Massachusetts, but almost all severe dental infections and trauma are referred to Rhode Island Hospital.

"In a two-year period, we had 5,800 emergency department visits for a host of cranio-maxillofacial and dental complaints," Dr. Elizabeth Benz said. "Most emergency department staff have dental training and are able to follow triage guidelines for dental needs and determine the best treatment options for that patient."

Many of those patients were referred out to safety net dental health clinics in the community for proper continuity of care.

"The nature of the dental care provided within our emergency department allows us to treat patients onsite when we can," said Dr. Benz. "The emergency room physicians are able to seek consults and contact the on-call dentists to treat patients onsite. That is not the case for the other surrounding hospitals in the region."

Rhode Island Hospital's dental professionals are referred patients from many of the community hospitals as these community hospitals are not equipped to provide adequate dental care. Many larger states with large rural areas won't have nearby alternatives to send patients to for better equipped management of dental emergencies.

"While we treat the emergencies at the hospital, around 70% of patients get referred back out into the community because the primary reason for their emergency department visit is dental pain without local or systemic involvement," said Dr. Benz. "Many of these patients have dental providers of record who were unable to treat the patients during off hours or weekends."

The more serious patients treated for trauma, deep neck infections, abscesses and other conditions that cannot be accommodated by outside providers are treated by dental providers at the hospital for immediate care. Many are admitted for intensive care treatment due to life threatening conditions.

Earlier this year, a Rhode Island resident died because of complications from an odontogenic infection. Dr. Steven Brown, an oral and maxillofacial surgeon at both Rhode Island Hospital and Hasbro Children's Hospital in Providence, mentioned that having a provider in the community to help patients navigate the oral health care system would be a better solution.

"I would love to have a Community Dental Health Coordinator (CDHC) dedicated to play traffic cop for patients who don't know where else to go to seek care," said Dr. Brown. "We need the hospitals, community health centers, and private practice dentists to collaborate together and employ a CDHC to help direct patients."

Even with the long-established role of dental professionals at Rhode Island Hospital, they still understand that the greater need is for helping patients secure a dental home.

"There is a tremendous need out there for patients with severe dental problems that haven't manifested themselves into symptoms yet," said Dr. Brown. "Dental problems can manifest into life threatening conditions and we see this all the time."

Recent hospital discharge data showed that the age group most likely to be seen for a non-traumatic dental visit is the 21-34 age bracket. This is the demographic that has the lowest utilization of preventive dental services in the state. The need to educate young people about the importance of visiting the dentist remains a priority.

The Oral Health Program of the Rhode Island Department of Health (RIDOH) recognizes how a patient's dental visit within the past year plays a significant role in early detection and management of dental disease.

Although there were 1,800 Rhode Island Hospital emergency department patients treated on site with definitive treatment last year, with the resources and nearby clinics collaborating, the likelihood of seeing the same patient in the hospital for a dental emergency is declining thanks to emergency department referral programs. Young adults, especially in RI, could be better educated to best meet their oral health needs outside of the emergency department. A Community Dental Health Coordinator not only educates and informs patients about oral health care needs but could work to address solutions for community- based prevention programs. With the collaboration between the hospital and nearby safety net providers, including FQHCs, CHCs, and private practices accepting Medicaid, patients are able to establish a dental home.

Dr. Samuel Zwetchkenbaum, dental director at RIDOH, explained how collaborations with the Oral Health Commission and the Safety Net Work Group in the state are focusing on the ways to remove barriers and improve access to care.

The number and location of the safety net clinics improve outcomes to get people the care they need outside of the hospital. Although, recent data share how Rhode Island is one of the better ranked states for oral health, Dr. Zwetchkenbaum explains, "There are disparities in health outcomes regardless of zip code and some neighborhoods within a city are vastly different from their counterparts. Many of these issues are socioeconomic based and as the state dental director it is my goal to find solutions for health equity in the state."

The alliance between dental providers, hospital emergency departments, and health centers strengthens the ability to meet patients' needs and provide appropriate, effective treatment.

Elizabeth Benz, D.M.D, CAGS, FICD, is the director of Samuels Sinclair Dental Center at Rhode Island Hospital, which provides dental services to children, intellectually or developmentally disabled patients of all ages, and medically complex patients. Dr. Benz is also the director of the Joseph S. Sinclair General Practice Residency Program. She is also a clinical assistant professor of surgery at The Warren Alpert Medical School of Brown University and provides hands-on training to medical students, residents and fellows.

Steven Brown, D.M.D. FICD is an oral and maxillofacial surgeon and consultant to the Samuels Sinclair Dental Center at the Rhode Island Hospital staff since 2003 and runs a private practice in East Greenwich, RI. Dr. Brown was recently honored with the 2018 Milton W. Hamolsky, M.D., Outstanding Physician Award issued to honor doctors who have distinguished themselves with skill, leadership and professionalism at the hospital. Dr. Brown is a clinical associate professor of surgery at The Warren Alpert Medical School of Brown University.