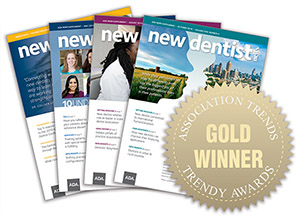 The ADA New Dentist News received the top award in the Monthly Newsletter or Communication category in this year's TRENDY Awards, which recognizes association and nonprofit marketing and communications.
The publication was the gold winner at the July 8 virtual ceremony, taking top honors over the American Bar Association's The ABA Washington Letter and Public Affairs Council's Impact publication, which received the silver and bronze awards, respectively.
The awards are presented by Association TRENDS, which provides association executives and industry partners training, data and insights to better serve their organizations.
"It's so exciting that the New Dentist News won this award," said Dr. Emily Mattingly, New Dentist Committee chair. "New dentists are looking for a reliable source for news as well as guidance from peers, and this publication provides both of those things and in a modern, digestible format."
The award comes about a year after the ADA New Dentist Committee and the ADA Publishing Division unveiled the redesigned, eight-page quarterly publication, which is distributed with the ADA News as a member resource for new dentists and dental students. Previously, the New Dentist News came as a four-age wrap of the ADA News.
Created by new dentist leaders more than 23 years ago, the New Dentist News includes in-depth stories about new dentists and their experiences across the practice paradigms in dentistry. Topics range from practice management and finances to avoiding burnout and trends in the profession.
Earlier this year, the publication also launched its website,
ADA.org/newdentistnews
. It provides a home for individual stories published in the print publication, along with additional content covering the issues unique and relevant to the new dentist experience.