When Dr. Colleen Greene took her two young children in for their dental visit, her 3-year-old asked her a direct question: "Are these your work friends?"
"And I told them, 'Yes, exactly,'" she said. "Until now, me explaining that I'm also a tooth doctor wasn't anything meaningful to him. It still might not be."
Despite her work as a pediatric dentist at Children's Wisconsin in Milwaukee, Dr. Greene still faces a struggle other young parents may be familiar with: taking her children — 3-year-old Domonick and nearly 2-year-old Tyrika — to their six-month checkups and cleanings.
Here are a few tips Dr. Greene, a member of the ADA New Dentist Committee, offers other new dentists with toddlers and those planning on starting a family when the time comes to visit the "work friends":
•
About a week before the dental visit
, Dr. Greene reminds her kids repeatedly about the upcoming cleaning. "My son is a very relaxed patient and can now handle cleanings like a champ," she said. "Our little girl is more 'spirited' and needs more hand-holding. It matches her personality." Dr. Greene said that when they're brushing their teeth at night, she reminds them that someone will count their teeth soon. "I'll start counting their teeth with them and practice opening and closing their mouths," she said. "It increases the familiarity and expectations once we get there."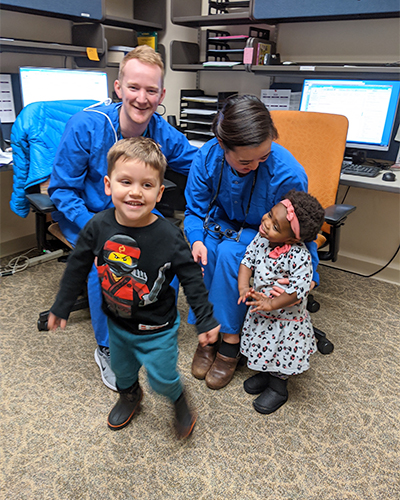 •An early morning visit, as opposed to a visit later in the afternoon, can be better for the child. "I've found that the kids are more successful earlier in the day," Dr. Greene said. "The kids are well rested and can tolerate the stress of a visit more than when they're tired later in the day."

• Consider convenience. Luckily for Dr. Greene, her kids' dentists are her friends and co-workers at Children's Wisconsin. "My kids know them, and they're wonderful providers," she said. "I know they can get the best care from them." However, she also chose them for convenience. It made things easier when scheduling their visits and to be able to take the kids on her days off.

• Expect to become more understanding. Although Tyrika's hearing is fine, Dr. Greene needs to take her for a checkup every six months. "I asked myself, 'Do I really need to?'" Dr. Greene said. This made her realize that dentists can't assume that parents find value in the recommended guideline for a dental visit every six months. "It's a bigger ask than we sometimes realize when we ask parents to bring their kids to us," she said. "Visits can be awkward. It's normal for kids to feel very defensive with an adult they don't know well, even when they're your coworker." As someone who works full-time, Dr. Greene admits that she sometimes hasn't followed the six-month recommendation. "So, when a family comes in only once a year, and the kids have a lower risk for cavities, I've found their decisions more reasonable," she said. "Having kids has made me want to up my game in explaining value."
• In the age of COVID-19, it may be a good idea to talk in playful terms about everyone wearing face masks, face shields and extra gowns in the office with your young child before going to the dentist. For example, Dr. Greene said her son likes to talk about how his bike helmet keeps his head safe just like an astronaut wears a special suit in outer space and dentists now have their own superpower shields to keep everyone safe!

For more information on caring for babies' and kids' teeth, visit MouthHealthy.org/en/babies-and-kids.