The Association announced May 15 it received a $250,000 grant from Crest + Oral-B emphasizing their shared commitment in supporting new dentist members and their dental teams recovering from the COVID-19 pandemic.
"As part of our overall effort to help all dentists prudently return to work, the ADA is developing programs and resources specifically for new dentists and their teams," said ADA President Chad P. Gehani. "We are thankful for Crest + Oral-B's generous support of our commitment to helping dentists more recent to the profession rebuild their practices and careers in this new world."
While COVID-19 has greatly affected dentists in all career stages, new dentists are unique since they are at the beginning of their careers and many carry large student debt, according to the Association. As practice owners, they often lack the resources that more established dentists may have been able to accumulate over the years; and as associates or employee dentists, they may not be receiving income or able to directly influence compensation for their teams.
"For the last several weeks, many dentists have focused only on emergency and urgent treatment in response to the COVID-19 crisis," said ADA President Chad P. Gehani. "Now, as some states begin to lift their stay-at-home orders, dentists are beginning to reopen their practices for full-service care. New dentists, however, may have a more difficult time getting back on their feet and serving their patients due to the financial challenges presented by the pandemic."
According to the ADA Health Policy Institute polling in late April, new dentists were more likely to have financial disadvantages directly related to COVID-19. New dentists were less likely to receive full pay (9.3%) than established dentists (13.5%); and were more likely to have had their Small Business Administration's Payment Protection Program loan denied (18.9%) than established dentists (14.3%).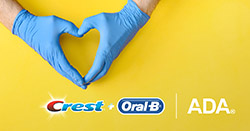 The grant from Crest and Oral-B will help the Association develop programs and resources to help new dentists get their careers back on track to continue serving all patients amid the COVID-19 pandemic. The program will be developed collaboratively with dentists, including the New Dentist Committee, to address the unique challenges new dentists and their teams are facing in light of the pandemic.
The grant is part of Crest and Oral-B parent company Procter & Gamble's larger effort to support the dental community amid the COVID-19 pandemic.
"New dentists and their teams are particularly susceptible to economic hardship during these difficult times," said Dr. Stephanie Gans, North America professional and scientific relations manager for P&G Professional Oral Health. "Our hope is that our grant to the new dentist program will help provide the resources needed to help dental professionals overcome the current obstacles posed by COVID- 19 and flourish as oral health care providers."