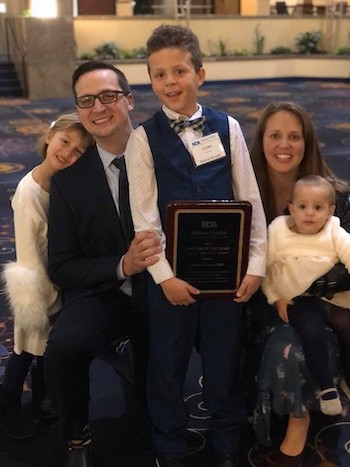 Award: Dr. Nathan Suter and his family pose for a photo after the Missouri Dental Association named him Dentist of the Year in 2019.
Dr. Nathan Suter, of Kirkwood, Missouri, is among the recipients of this year's 10 Under 10 awards, which recognizes new dentists who demonstrate excellence early in their careers. Dr. Suter is the CEO of Access Teledentistry and owner of Green Leaf Dental Care. In partnership with the Missouri Dental Association, Dr. Suter worked to pass state legislation that expanded the use of teledentistry in Missouri. In addition, he has developed a teledentistry training workshop and has spoken nationally on the topic of teledentistry. In 2019, he received the Dentist of the Year award from the Missouri Dental Association.
Editor's note: The American Dental Association is seeking nominations through Dec. 31 to recognize 10 new dentists in 2021. Honorees will receive a $1,000 gift card and be recognized in various ADA publications and channels. For more information or to nominate a new dentist, visit ADA.org/10under10.
Dr. Nathan Suter says that his love of dentistry began as a child. Growing up, his mother was as a dental assistant, and he found himself spending a great deal of time in the dental office where she worked. Having found a mentor in his mother's boss, Dr. Ron Line, the young Dr. Suter learned how to make dentistry relatable, which made him even more drawn to it.
Seven years into his career, Dr. Suter owns his practice where he provides general dentistry services such as extractions, root canals, fillings, and more recently, teledentistry, service that he says is to ensure that he is still accessible, even though he may not be physically available.
In November 2019, for his work in advancing teledentistry in the state of Missouri, through his advocacy with the Missouri Dental Association and the Missouri Coalition for Oral Health, the MDA named Dr. Suter as Dentist of the Year.
"Being so young and new to the profession, and being recognized by so many well known and respected dentists around my state, was a really proud moment," he said. "It was even more rewarding because my wife and kids were there to see it."
When he initially decided to go into dentistry, Dr. Suter says that while he knew that the success he currently has was achievable, he didn't imagine it.
"When you show up and start helping people, you start to see doors open," he said. "Especially if you come with a positive attitude, you'd be surprised at the impact that you make. And it will take you from one opportunity to another."
Being able to creatively expand patient access to dental care has been among his greatest accomplishments, he said. And it's not just a one patient thing, it's being able to help the community.
"I think one thing that stands out and gave me energy was when I went back to the community that I grew up in and started the first adult and child-focused dental clinic for the underserved," Dr. Sutter said. "I went to our local dental coalition meeting in my county and was met with surprise at the fact that they have never had a dentist to attend before. And from there I saw the potential of how much of an impact you can have by just showing up."
In addition to his work with the Jefferson County dental coalition, Dr. Suter also serves as the chairperson of oral health at the state level and assisted the ADA with teledentistry materials in response to the COVID-19 pandemic.
Dr. Suter advises anyone looking to go into dentistry to look for opportunities to take their talent outside of the office and into the community.
"You can achieve big things when you offer yourself to the community, and when you do that, the benefits you get in return are tenfold," he said.