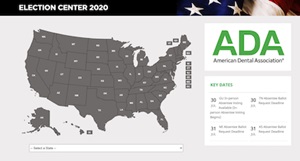 With about a month away till the general election, new dentists and dental students are encouraged to visit the ADA Political Action Committee's
2020 Election Center
, which seeks to help ensure voters are ready to cast their ballots.
Got questions about which candidates will be on your ballot on Nov. 3?
Need to check your registration status?
Want to sign up to vote by mail or see if you can vote early?
The answer to all those questions and more can be found at
Vote.ADA.org
.
"This website is your home for all things 2020 election," said Dr. David Watson, ADPAC chair. "In addition to helping users learn about the candidates in their local districts and states, it's also a great tool to keep people informed about key dates regarding absentee ballots and registration deadlines."
For more information about the ADA's advocacy efforts during COVID-19, visit
ADA.org/COVID19Advocacy
.