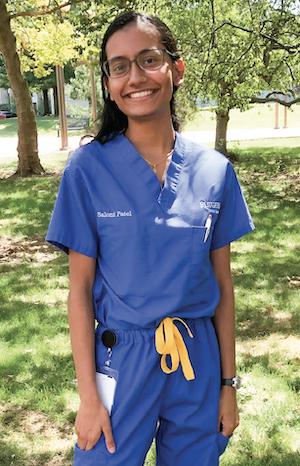 Dental school is a rigorous and often difficult transition to process. D1 year in the time of COVID-19 was no exception to this. As COVID-19 conditions within the U.S. developed to serious levels of cases, students were asked to remain home following spring break in early March.

Within a week, the transition to online school was established, with new measures for at-home examinations and postponement of laboratory courses. First and second year students lost 4-5 months of laboratory experience while third- and fourth-year students lost the ability to interact with and learn from patient encounters.

The lab courses, which were missed by D1 and D2 students, were slowly reopened following July as conditions within New Jersey improved. Social distancing measures, supply of personal protective equipment and regulations for capacity within the building were all assessed prior to the opening of labs again (especially for clinical patient encounter purposes).

As a first-year student during spring 2020, I felt fortunate that my education was not dramatically altered. Though lectures were streamed online, and didactic exams were monitored via online proctors, the core education was still available.

As first year students, our learning didactically was not impeded, and Rutgers specifically has taken strong measures to make sure their students are back in the lab to safely continue their development of their hand skills. Returning in August for labs was daunting since most of us had been home for several months. The initial few days were experimental to see how social distancing and COVID-19 regulations were followed. All students were split into one of two groups and all lab occupancies were reduced in half. This allowed for space for students to work six feet apart and not be caught in the traffic of others while in the confines of lab.

As we wrap up our laboratory requirements for D1 year, new didactic and laboratory courses are also starting this month. The shift from being a new first-year to an upperclassman second-year is surely confusing. It raises a sense of responsibility and introspection within me as both a student and a future practitioner. Within less than a year, our didactic knowledge will merge with a clinical outlook on cases, we will be assigned to patients, and boards will be looming. These areas of dental school will heighten both our educational and personal responsibilities as we take on more meaningful and impactful steps towards progression in our careers.

Overall, I am grateful for my professional community and educational administration for working through these uncertain times with a sense of mission and flexibility. I hope for all incoming students that their experience in dental school is just as enriching and filled with growth as it has been for my fellow classmates and me. Best wishes for my New Jersey Dental Association colleagues who have been an active and fulfilling addition to my year. Congratulations on the honorable 150th year anniversary.

Editor's note: This article was published with permission from the New Jersey Dental Association.