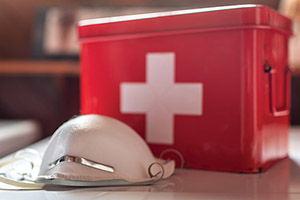 Long Beach, Calif.
— Amir Kazim, D.D.S., joked that having the appropriate personal protective equipment allowed him to save money on his astronaut costume this past Halloween.
Then the Californian turned serious.
"The impact of proper PPE for dentists allows us, the providers, to effectively ensure proper oral health care to our patients," said the new dentist. "By wearing longer lab coats, ensuring eye protection, and masks that limit droplet transfers, we can deliver the best quality treatment to our patients in a safe manner."
While protecting the safety of patients during treatment is paramount, ensuring the health of dentists and their staff members is also vitally important.
Manny Chopra, D.D.S., a member of the ADA Council on Dental Practice and chair of the council's Dentist Wellness Advisory Committee, pointed out an ADA Health Policy Institute survey that recorded minor and major discomforts caused by wearing PPE.
According to the survey data, conducted in August 2020, the most frequent complaints by member dentists relating to PPE were:
• General discomfort (42.8%).
• Heat stress (37.5%).
• Exhaustion (36.9%).
• Headaches (36.8%).
• Dehydration (33%).
• Facial dermatitis, including a rash, acne or other skin reactions (29.8%).
• Shortness of breath (26.2%).
• Neck pain with increased muscle fatigue while working in awkward positions with poor posture (21%).
"Personally, I have had a greater occurrence of headaches, increased sweating, increased thirst and neck pain due to the awkward positions I need to adjust to from the daily use of a face shield and gowns," Dr. Chopra said.
Dr. Chopra recommended some "hacks," or ways to improve the comfort or reduce the risks of injury when wearing necessary PPE. He said the simplest hacks include adjusting the operatory chair higher or lower for proper visibility; adjusting the patient chair by tipping the patient back further; lowering the office temperature; spacing out appointments; and adjusting office hours for a less stressful work day.
"Please try to avoid holding your head or neck in a more forward position, or holding your shoulders and arms higher," he said. "This may adjust your posture to an uncomfortable position, especially after a long day."
He also mentioned the consideration of a different style of face shield, especially if the dentist or hygienist needs to accommodate space for loupes and lights. In addition, he said anti-fog sprays or simply a soapy wash of eyeglasses helps to prevent fogging. The use of mask extender clips or surgical caps with buttons help to ease the pressure on ears from tight-fitting masks, he said. Some dentists have tried cooling vests to prevent overheating during long procedures.
Besides PPE, Dr. Chopra said the maintenance of other aspects of health are important to keep in mind.
"The most common personal challenges for myself were general anxiety for my health, financial concerns and a decreased quality of sleep," Dr. Chopra said. "The value of a good night's sleep was critical in my ability to deal with the stresses of the day. Yes, there is additional physical strain on your body, but please do not disregard your mental health as we work to address the dental needs of our patients. Make time for an evening walk, do some exercise, yoga, a family board game work or work together as a family to prepare dinner."
The future is unknowable, but there are guidelines to provide assurance that everyone is taking the right precautions if followed, Dr. Chopra said.
The CDC and the ADA have worked to provide dentists with guidance that should protect them during routine dental procedures, he said.
"The proper use of masks, face shields, gowns and such is now the required uniform for the near future. We may be uncomfortable, but your safety and the observance of the status of your personal well-being is of the utmost importance during this pandemic."
The ADA and state dental association will continue to support dentists as they need assistance with the infection control procedures implemented at practices, he said.
Dr. Kazim said that there is much more added pressure on dentists and team members in providing a warm, caring environment while maintaining proper health precautions through PPE.
But he's up to the task.
"Effective PPE allows the dentist and dental team members to conduct their vital and essential work in keeping America smiling, while adhering to the appropriate COVID protocols," Dr. Kazim said. "However, the issue that gets lost in the discussion about PPE and the dental community are family members. Effective PPE allows me to hug my wife without a worry. It allows the dental assistant to play with his kids without having to quarantine. We, as a dental team, can do what we do best and come home with a higher degree of certainty that we have done everything in our power to not be vectors for the COVID virus."