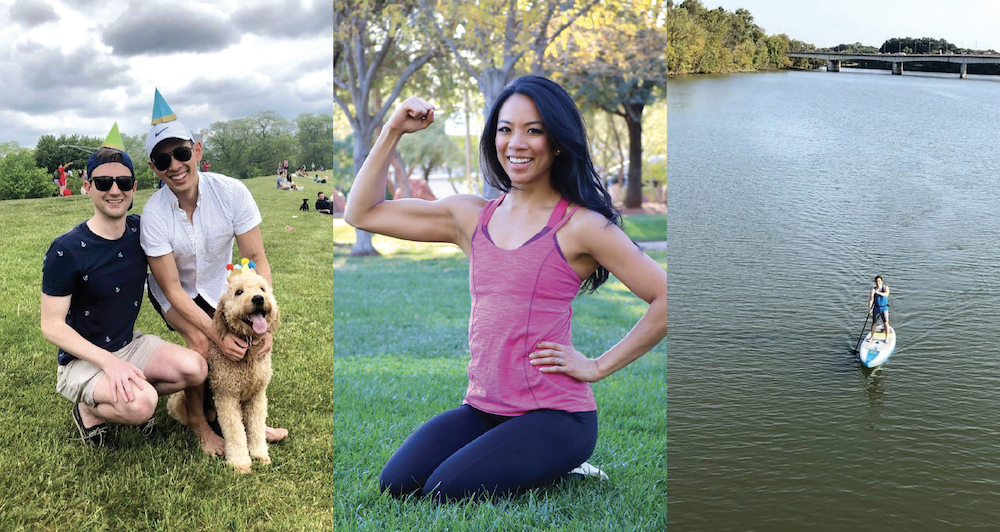 August is National Wellness Month, a good reminder to focus on self-care and to promote healthy routines.
It comes as the ADA has shone as spotlight on wellness initiatives all summer, thanks to grant funding from Crest + Oral-B. Surveys of new dentists in 2020 showed that a challenging year for members and the profession had a significant impact on overall well-being. To view these mental, physical and financial wellness programs, visit ADA.org/wellness.
Meanwhile, here are some ways your new dentist colleagues plan to observe National Wellness Month:
Peter Markov, D.M.D., Arlington, Virginia
I'll be trying to soak in as many sun rays as possible before the weather turns. I've been doing my best to disconnect from electronic devices when I can, and I've found a great hobby in paddleboarding. It's an easy way for me to explore new areas and disconnect from screens for a few hours. I love being surrounded by nature and the calm that comes with it. Making some new friends — mainly turtles and frogs — while getting a workout in always has me looking forward to my next adventure.
Josephine Pallotto, D.D.S., Lansing, Illinois
I plan on improving my health by getting back into a physical fitness routine, such as yoga, because it makes me feel good. I do believe that there is a connection between the body and mind, and it is important to have a balance of the two. Summer is perfect for taking advantage of the awesome weather and staying as active as possible, while remaining COVID-safe.
Donald Jonker, D.D.S., Chicago
Working in a field that can take its toll on your body over time, I believe it is imperative for dentists to actively take care of both their physical and emotional wellbeing. In order to maintain my health, I enjoy eating healthy and staying active by going running or strength training at the gym four to five times per week. This helps me to keep my stamina for those long work days and provides me with energy and mental clarity. I also find that setting aside time for some self-care helps me to maintain a healthy work-life balance and helps me to feel rejuvenated. I enjoy spending time with my husband and our puppy, reading or relaxing at the beach (when the weather permits in Chicago).
Bianca Velayo, D.M.D., Henderson, Nevada
I schedule my workouts in my calendar and treat it just like a meeting or an appointment. I used to view self-care as indulgent or selfish but I learned that this "me time" was crucial in preventing burnout. Exercising helps me stay mentally and physically strong. It also motivates me to make healthier lifestyle choices like eating cleaner and drinking more water.
William Brennan Arden, D.D.S., Foxboro, Massachusetts, U.S. Navy
Maintaining health for me is a combination of staying mentally active, diet, muscle strengthening, and frequent low-impact cardio — usually achieved by swimming. With the COVID-19 pandemic, the exercise portion became hard as many pools closed, so to stay fit I shifted to something I learned from a command fitness leader at one of the world's most remote dental clinics, Diego Garcia, called the Navy Operational Fitness and Fueling System (NOFFS). This resource provides a series of complete body exercise routines designed for small spaces, such as ships and submarines — and even back storeroom closets of our dental clinics — with minimal equipment. It provides a comprehensive and practical way to stay fit and healthy while waiting to fully return to the water.
JoAnna Pufnock, D.D.S., New York City
During the summer months I try to walk home through Central Park as much as possible as opposed to taking subway, or bus. I also enjoy weekend trips upstate to explore hiking trails. At home, I plan to maintain my health by cooking fresh daily and be on the lookout for new recipes.
Shivani Kamodia Barto, D.D.S., San Antonio
I have found that it's the small and consistent daily habits that most greatly improve my wellbeing. My plan to maintain and improve my wellbeing is to continue building the seemingly mundane wellness practices such as journaling, daily movement, yoga, meal prepping, sleeping 7-8 hours a night, drinking plenty of water, limiting screen time, and connecting deeply with my friends and family. Trying to change or implement everything at once can be daunting, so I have found that making just one small change to my routine every week and "stacking" habits creates a sense of flow and ease. Most importantly, I plan to focus my awareness on what feels good and lean into making positive changes from a place of gratitude.
Gabriel Holdwick, D.D.S., Harbor Beach, Michigan
I try to squeeze every last ounce of warmth and sunshine out of the summer months, and in August I plan to get some hiking and biking miles logged. My office usually takes a week off in August, and I will be unwinding with some time away from the office and out in nature. With more hours of daylight, I also try to enjoy the warm evenings more after work, rather than only getting to enjoy the outdoors on the weekends.