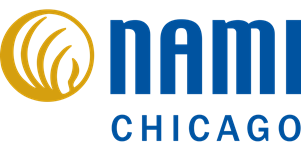 The ADA hosted a webinar with NAMI Chicago on June 27 as the first in a series of education programming on mental health and wellness. The webinar was a part of the ADA Accelerator Series, provided in part by a generous grant from Crest + Oral-B. Speaker Kasey Franco, chief education officer at NAMI Chicago, spent the hour-long session taking a deep dive into the definition of wellness, sharing how to recognize when a colleague is struggling, and identifying ways to be supportive within the dental practice and workplace setting. She shared some of the challenges and opportunities for wellness and then presented wellness techniques and strategies that dentists and their teams can implement to build resilience and improve workplace wellness.
NAMI Chicago is a chapter of the National Alliance on Mental Illness, with a goal of fighting mental health stigma and fostering wellness; providing mental health training and education programming; and collaborating with community organizations, first responder agencies and workplaces to normalize conversations about mental wellness.
Dr. Ben Youel, a practicing orthodontist in the Chicago area and member of the ADA New Dentist Committee (NDC), introduced the webinar. In doing so, he shared some of the personal and professional challenges he's faced during the pandemic. Anxiety, stress and burnout were among the challenges and sentiments new dentist members cited they personally faced in the last year, with a request to the ADA for additional wellness resources to help tackle these challenges head on. The NDC and ADA have been working over the last year to create new resources and programs to support members' mental health, physical health and financial wellness journey.
Ms. Franco stressed to Dr. Youel and participants that sharing personal stories is a really powerful way to connect and express yourself. It decreases feelings of loneliness and isolation. It also creates a shared experience for conversation and relating to others.
Everyone is on a spectrum of wellness and how they feel can ebb and flow frequently. By sharing that experience and our feelings, we are instantly mitigating a lot of overwhelming emotions. But building understanding and awareness of wellness and how we're feeling requires work and intentionality, Franco stressed. NAMI Chicago is committed to helping people, no matter where they live, as a resource and partner on this journey to mental wellness.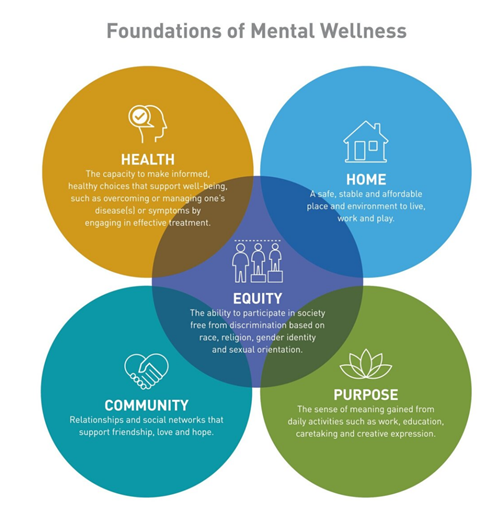 The NAMI Chicago helpline is a good starting point for resources, information and referrals. They provide thousands of callers annually with individual support and have seen a 200% increase in calls since COVID-19 impacts began in March 2020. Contact the helpline at: 1-833-NAMI-CHI.
What does wellness mean?
Ms. Franco presented the Foundations of Mental Wellness – health, home, community and purpose. These four pillars are centered with equity at the forefront. When any of these five areas of our life are out of alignment, overall wellness and the feeling of being well can begin to slide into increasing feelings of being unwell. Training and practice are needed to build awareness around stressors in our lives to better understand the progression from good to bad. Ms. Franco compared this to a stoplight, with green for good, yellow starting to feel off, red is unwell, and thinking through how to get back to green.
Transitions and changes in life that can be highs and lows that may be triggers or risk factors but may be able to be mitigated with increased self-awareness. Some of the challenges or barriers to mental health include: uncertainty, disconnection, powerlessness, anxiety, irritability, change and stigma; all of these have been heightened during the pandemic. Unfortunately, expressing challenges with any of these feelings and mental health well-being has become highly stereotyped and stigmatized
So, what does good mental health look like? It means we can positively engage in productive activity and fulfilling relationships; and have the ability to adapt to change and deal with adversity (World Health Organization, 2014). Engaging in wellness and doing the work to feel good takes a lot of practice, Ms. Franco said, but by doing so, all of these areas of good mental health will positively impact wellness and give us meaning.
Of those individuals who have identified they could use some sort of support, 60% of people are not receiving it. Some of the identified barriers to care include:
• Accessibility.
• Insurance.
• Denial.
• Lack of mental health literacy.
• Distrust in the mental health system.
• Lack of insight .
Poor mental health can negatively impact work and lead to:
• Absenteeism/tardiness.
• Lower work quality.
• Inability to put boundaries in place.
• Hyper-productivity.
• Anger/cynicism/irritation.
Building resilience is an ongoing process that requires time, effort and support. It is not something that can be achieved, then considered done. Rather, it takes time to nurture this skill in order to be insightful and intentional. This can be done by:
• Making connections.
• Setting realistic goals – this can be different for everyone.
• Nurturing a positive self-view and self-compassion.
• Finding opportunities for growth.
• Maintaining a hopeful outlook.
• Taking care of yourself.
• Reaching out for support, when needed.
• Finding community.
• Individual and community responsibility.
If someone reaches out to ask for help or the comments they share lead you to believe they could use some assistance, there are several ways to meaningfully provide support:
• Show empathy – put yourself in others' shoes, listen without judgement.
• Utilize active listening skills – normalize and validate their comments.
• Ask what they need.
Ms. Franco concluded the webinar by sharing ways in particular the dental profession could be a leader in destigmatizing mental health:
• Normalize the conversation around mental health in the profession and practice setting.
• Display posters within the office to increase awareness.
• During team meetings, ask how others are feeling and doing.
• Consider terming days off as wellness days rather than sick days.
The
full recording of this webinar
is available on-demand for CE credit through the ADA Accelerator Series. A second webinar in the series will be held Aug. 16. Register now to join the conversation on the topic of 'Wellness in Dentistry: Inspired and Supportive Leadership'. Additionally, a
toolkit
was developed by NAMI Chicago to guide you on discussing and addressing mental health in the workplace. Additional wellness resources are available at
ADA.org/wellness
.