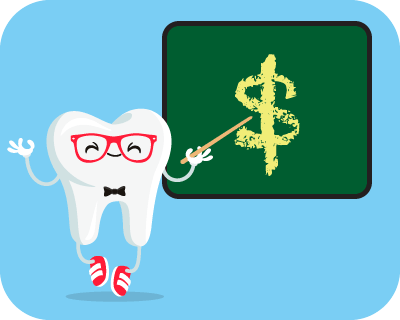 In May, the ADA held the first webinar of several in a series for new dentists and dental students to offer guidance and answers for a strong financial foundation. The "
Plan Your Financial Journey: A Series for Dental Students and New Dentists
" webinar, now available on-demand, is intended to support recent graduates and those practicing less than five years with planning their financial journey now, early on in the dental career. Additional webinars are planned to support students and dentists practicing 5-10 years. Most dentists graduate with a significant amount of debt that can be overwhelming, but it is important to remember that education is an investment personally and professionally.
The ADA-sponsored webinar is a collaborative effort with ADA-endorsed companies and in response to a February 2021 survey of students and recent graduates asking what types of resources and information would be most beneficial. The top three responses out of 10 all expressed a need for more financial advice and resources.
Dr. Daniel Hall, New Dentist Committee chair, and Dr. Britany Matin, new dentist member for the Council on Member Insurance and Retirement Programs, introduced the speakers and moderated the webinar. Each also shared their own financial journey. As they completed dental school with a large amount of debt, they navigated associate roles, loan refinancing, securing a loan to acquire a practice, hiring employees and purchasing equipment for their practices, establishing insurance and benefit programs for staff, as well as personal milestones and finances for buying a house, getting married, purchasing life insurance and starting a family. Their message to all dental students and new dentists is that they are not alone in juggling many personal and professional finances.
The speakers were:
• Paul Bamundo, senior vice president, Head of Business Development & Marketing Partnerships, Laurel Road.
• David Kissane, dental financing specialist with BMO Harris.
• Stephen B. Dunbar III, JD, CLU, executive vice president of Equitable Advisors Georgia Branch.
• Santo LoPorto, senior director of Equitable Life Insurance Company and client relationship manager for the ADA Members Retirement Program.
• Tom Kacirek, vice president with Protective Life Insurance Company, under acquisition by Great West.
Eight key takeaways:
•
Determine what you want.
First determine your personal goals and desired end outcome. Ask what brings yourself joy as well as what brings in income when making decisions on where and how to spend money. Don't let your debt be the deciding factor for whether you go after those goals. It's always possible to re-evaluate and course correct decisions as goals and desired outcomes change over time.
•
Take steps to improve your credit rating.
By paying bills on time, using no more than 30% of available credit limit, keeping credit cards for a long period of time to establish credit history, and mixing types of debt (car, mortgage, school loans) but actively paying all on time, you can help boost your score.
•
The time to start contributing for retirement is now.
Even if you can only contribute a very small amount, there are tax advantages and savings will compound over time. Saving for retirement is one of the best investments you can make.
•
School loans don't rule you out for practice loans.
It can still be possible to get approved for a practice loan even if you have other loans and expenses. Things that can help increase your odds: refinancing existing loans to achieve smaller monthly payments over a longer timeframe, adding another borrower with good credit and little debt, strong projections on expected income from acquiring a practice, and putting off large expenses while keeping other personal debt to a minimum. Non-traditional loans, such as liens, are also options.
•
Dentists may be eligible for special lending options.
To support dentists as small business owners, many banks are able to offer dentists unique loans that require little to no cash on hand and as down payment on a practice.
•
Create a holistic plan for finances.
Whether buying a practice, buying life insurance or making other investments, all decisions should be a part of a longer-term, holistic plan to reach your 3-5 year goals.
• D
o your research.
Financial planning should be a relationship-based means for gathering input to feel good about whatever decision you make. This should not be a transactional, one-time interaction, so it's important to find the right qualified individual to support you for the long-term. A financial advisor can run a cash flow model of ratios of debt compared to income to determine if you can afford to buy a practice or to illustrate the consequences of investments and expenses to help you make informed decisions.
•
Life insurance is the cornerstone of any financial plan.
Dentists are attractive customers for life insurance because they are generally healthy, but dentists also have a 1 in 4 chance of becoming disabled during the course of their career. More than 80,000 ADA member dentists and their families are a part of the ADA endorsed plan through Protective Life Insurance. This buying power means low rates as well as familiarity with what is best practice in terms of coverage amounts and types of coverage.
The live and recorded webinar series along with supplemental online content will help students navigate challenges to achieve their goals. This webinar is now available
on-demand
is eligible for 1 CE credit. Have other financial topics you want covered? Send content ideas for the webinar series to
studentaffairs@ada.org
.