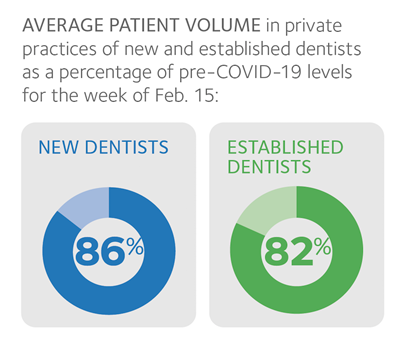 Back in March 2020, the ADA Health Policy Institute (HPI) initiated a tracking poll of U.S. dentists to quantify the impact of COVID-19 on dental practices over time. Results of the latest wave of the poll, conducted the week of Feb. 15, reveal slightly better outcomes for new dentists when compared to more established dentists.
• While more than half of new dentists (52%) indicate their practice is "open and business as usual," the share of established dentists indicating so was 10 percentage points lower.
• In terms of patient volume, on average, new dentists' practices were at 86% of pre-COVID-19 levels compared to 82% for established dentists.
For more detailed results from HPI's COVID-19 economic impact poll or to sign up for the monthly research panel, visit
ADA.org/HPI
.